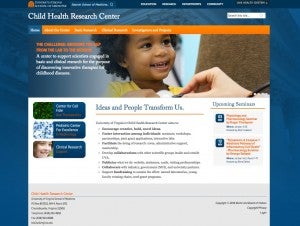 Q: Tell me about how this idea began. How long did it take to make the dream a reality?
A: The Children's Hospital Research Center is the result of many conversations with our Chair, Jim Nataro that have evolved over time. We both had the very same idea in our mind. I had been the director of a previous center funded by NIH and he had experience with research centers in Maryland. We wanted to combine new ideas and innovation with our past experience. We needed to enhance our research capabilities and join that with the translation of medicine in order to quickly move what we discovered in the lab to the bedside.
From talks to reality, this took about a year. We decided to move forward with Clinical Research and Basic and Translational Research in MR4.
Q: There are six visions of the CHRC (listed below). What is an example of how you are translating these visions into real life?
Generate fundamental new knowledge.
Accelerate the transfer of knowledge to excel in the care of children and their families.
Educate the new cadre of graduate and medical students, and physician-scientists.
Collaborate with the private sector, government and industry to develop new therapies and tools.
Engage our communities and leaders in implementing novel educational–health practices throughout the State and globally.
Develop inter-departmental, national and international partnerships to enhance/potentiate our capabilities and global reach.
A: One example of how we can translate these ideas into real life is that we recently discovered a cell that becomes the origin of a very aggressive type of leukemia. We can now culture these cells and treat them with pharmaceutical compounds or gene editing to see if we can abolish their abnormal growth. The cells are genetically engineered to be green so we can track their growth in the body and in laboratory dishes and evaluate how they respond to the treatment. For treatment for children, this holds great potential.
Q: What makes UVA's CHRC stand out from others across the country?
A: There are not many centers across the country like us. What makes us unique is our focus: a highly integrated, compact core of scientists devoted to understanding how cell fate impacts on the initiation and evolution of disease. Also, our ability to collaborate across Grounds with basic scientists, bioengineers, and clinicians makes us unique.
We have developed sophisticated tools to explore fundamental questions as to how cells develop and maintain their identity and fate in response to disease and injury. Those concepts are relevant to restore health. We are also lucky to have a highly supportive environment from our department, the administration of the Health System, and from our community, which is exceptional.
Q: As the director, what has been the most rewarding part of your job so far?
A: Every day, novel and exciting discoveries are made to help us understand the molecular basis of disease. As pediatric scientists, we have a unique opportunity as well as a responsibility to lead the way in the generation of new knowledge for the care of children.
We work each day to create an environment for discovery and it is very rewarding to feel that as a scientific community we are positioning ourselves ever closer to better management and eventual cures of pediatric illnesses. We also want to leave a legacy and ensure future growth. We'll do that through our young investigators. It is enormously rewarding to see them progressing as they are. We want to make sure that we provide them with every opportunity for success. Finally, working with our community has been fantastic. We have a great group of supportive individuals devoted to the mission of children's health.
Q: What are you most excited about for the future of the CHRC?
A: For the future, I am most excited about our continued growth. I am amazed how fast science moves now; it used to be a very long process. Competition is good and excites me. I want this to be the place where we finally eradicate some of the most devastating illnesses. I want this to be the place where the most important discoveries are made.
For more information on the Children's Hospital Research Center, please visit the CHRC website.
Filed Under: Features
Tags: RG