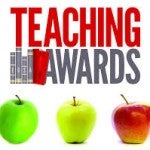 Please consider nominating faculty in your areas for one of the many University of Virginia Teaching Awards administered by the Teaching Resource Center (TRC) and the Office of the Provost.
The deadline for nominations is February 4, 2014.
For more information on individual awards and tips on developing a successful faculty nomination dossier, please visit:  http://trc.virginia.edu/Awards/Awards.htm.
Filed Under: What's New