The Still Point of The Turning World: A Mother's Story
Emily Rapp, Penguin USA, 2013
Leaves Falling Gently: Living Fully with Serious and Life-Limiting Illness through Mindfulness, Compassion, and Connectedness
Susan Bauer-Wu, New Harbinger Publications, 2011
Being with Dying: Cultivating Compassion and Fearlessness in the Presence of Death
Joan Halifax, Shambhala Publications, 2009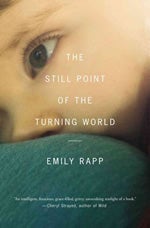 Emily Rapp's new book, Still Point of a Turning World, is the chronicle of a her heroic quest to discover the "gap-ridden myth, the idiosyncratic narrative" defining her son, Ronan's, all too brief life with Tay-Sachs. It is also the story of a mother's grief, told with a poignancy that captures both the challenges of daily life and those quiet moments of arresting insight that appear as jewels in the fog. Mostly, this "is a love story, which, like all great love stories, is ultimately a story of loss."
The book opens with the gripping account of a routine trip to the ophthalmologist. Ronan's pediatrician suggested the consultation due to a developmental delay. Imagine the unsettling surprise of this busy ophthalmologist when he scans Ronan's retina and sees the rare, pathognomonic, cherry-red spots of Tay-Sachs. As he stumbles with what to say, Emily Rapp knows immediately that it's bad. She sees it in his face. She senses the sorrow in his voice. Before he ever utters the words of diagnosis, she knows her life is about to change forever. What follows is a chaos of emotion and disbelief. Rapp so clearly describes her memory of this moment that I felt myself wanting to step into the room and be helpful.
The chapters that follow spread out over the next year.  Daily life offers Rapp constant opportunities to reflect on the winding path of grief and her language is often arresting in its apt and poetic description. When imagining the loss of Ronan as a physical presence, she contemplates gathering up the collected objects of "his magic shelf", and contemplates the absence of his body next to hers. Losing things matters, she writes.  "Things count…. Things make people—and memories—accessible, digestible, permanent feeling, like some kind of marking, like a portable, off-body tattoo."
There are warm moments of hope as well. The connections that are developed with other parents of children with Tay-Sachs, whom she calls her Dragon Moms, seem essential to her coping. Emily's workout partners at the gym create a Ronan-a-thon to raise money for his care. They also provide a steadying presence without undue conversation. And finally, the time spent at Upaya with Roshi Joan Halifax for the "Being with Dying" retreat grounds her with a renewed strength.
It is the mindfulness and deep acceptance that emerge from Upaya that bring the book around to its closure. We are able to see, in retrospect, that being in the present moment with Ronan has been what has created much of Emily's joy and memory and meaning.  She learns at Upaya that being fully present with the dying requires "a strong back and a soft front."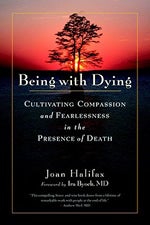 In her book Being with Dying, Joan Halifax shares 19 lessons with 19 meditations gleaned from decades as a Zen priest. Roshi Joan offers spiritual care and presence at the end of life to those in and around her community. She also leads transformative retreats for caregivers at the Upaya Zen Center in Santa Fe, New Mexico. Through the Compassionate Care Initiative at the School of Nursing, Dean Dorrie Fountain has enabled dozens of UVa faculty from medicine and nursing to attend the annual "Being with Dying" retreat at Upaya. The hope is to "cultivate compassion and fearlessness in the presence of death" through mindfulness meditation and practice.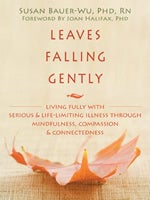 Susan Bauer-Wu, the new Tussi and John Kluge Endowed Professor in Contemplative End of Life Care in the School of Nursing at UVa, offers a similar approach for those who wish to live fully with serious and life-limiting illness. In her book Leaves Falling Gently, she explores mindfulness, compassion, and connection using scientific evidence, stories and reflective practice.  The meditation exercises are useful to everyone, and presented as particularly helpful to folks like Emily Rapp who live day-to-day with life-limiting illness and its imminent losses.
The Still Point of the Turning World is a courageous tale of love. Peppered with luminous poems and references to literature, Rapp's book moves the reader outside her personal grief. Although we are drawn into the heartbreak of her story, we can see beyond it.  In the final two pages of the last chapter, Emily Rapp shares a story, that she has created for herself, of life after Ronan. She leaves us with a richly drawn, lingering image of being present to an eternal love.
Filed Under: Features
Tags: book-review, JLP3Z, SB6VK