by Jim Nataro, MD, PhD, MBA, FAAP
As many of you know, it is an exciting time for us at UVA Children's!  There are a lot of changes going on locally and throughout Virginia with regard to children's healthcare.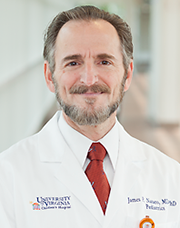 Most of you also know that starting last January, we convened a formal strategic planning process, engaging a company called Whitecap Health Advisors. Last August, they delivered the formal output of their strategic planning effort. It represented a compilation of information they gleaned from meetings with many of you, their knowledge of the national and regional currents, and the results of detailed financial analysis. Karin, Billy, and I formally presented the document to UVA health system leadership last summer.
Since that time, we had been on an ambitious refinement and execution path. No fewer than 12 working groups have been convened to drill down, brainstorm, and implement recommendations from the strategic plan document. I am very pleased by the energy and creativity coming out of these groups.
Some of the basic elements of the strategic plan included the development of destination programs, meaning those that will attract patients to come from a great distance to receive their care at UVA; better attention to marketing and branding both internally and externally; an effort to accommodate greater clinical volumes in our inpatient and outpatient services; and efforts to reach out across distances to deliver services.
An important part of our strategic planning effort is to formulate geographic plans that address Northern Virginia, Southwest Virginia, and Richmond markets. The Northern Virginia plan will focus on the opportunities provided by UVA's acquisition of three Novant hospitals in Haymarket, Manassas, and Culpeper. These three physical sites could serve as the platform for an enhanced presence in the region. The Richmond discussion is focusing on appropriate partners for UVA in the Richmond area. Under active discussion is a much closer and more collegial relationship with VCU. The Southwest Virginia plan is focusing on how to provide care for pediatric patients over a very large geographic region. You may know that the Department of Pediatrics runs a care coordination contract in Abingdon, and this provides a locus at which to ground our efforts.
The marketing and branding committee is looking at multiple opportunities to improve our presence throughout the Commonwealth and the recognition of the outstanding outcomes that we deliver. Improving patient access to the VA health system is a major goal of this group. Developing a single access phone number is an idea whose time may have finally come.
Several working groups are focused on particular clinical areas. These groups are all in the brainstorming phase and are considering opportunities to stand up destination programs. The food allergy program started by Dr. Jonathan Hemler is a perfect example. Food allergy is on the rise in the United States and we have outstanding expertise in this area, including membership in the Food Allergy Research & Education Network.  We are developing a detailed business plan that will articulate how we engage our excellence toward meeting that developing need. Watch for more information in the near future regarding our Food Allergy Center.
Other areas for potential destination programs will start with services that are already strong at UVA and will develop ideas for how to make them not only stronger, but also more accessible for patients across the Commonwealth.
We welcome any and all involvement in this exciting effort!
Filed Under: Features
Tags: JPN2R