Over the last couple of months, the Women's & Children's Service Line, including the Children's Hospital, has been integrating the Lean Management System (LMS; aka "The Model Cell") throughout its inpatient units. One of the main ideas around using a LMS is improved communication throughout the service line. This allows those at the bedside to communicate to administration as well as the other way around and ensures everyone is aware of problems/issues as soon as possible.
How is this done? Using standard work for daily reporting is essential to improving this communication. Each unit's Unit Based Leadership (UBL) team works with the bedside team members in the morning to problem solve and "check-in" to determine if issues need to be escalated up the Help Chain. These problems are then brought to Service Line leaders at the Uber Huddle at 9:30 am in Room 7614. If problems cannot be solved at that time, the Service Line leaders bring it to the attention of others in the Situation Room (Health System Library) at 10:00 am. There other Service Line leads as well as Medical Center administration attempt to problem solve the issues in real-time.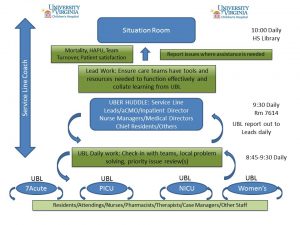 But how does communication flow back to the bedside? One issue that we have heard on several occasions is that information does not routinely come back to the people who need it most. In April, each of the inpatient units (as well as the Battle Building floors) developed their own communication tree to ensure proper communication occurs rapidly and that it gets to the team members who need to know. With these communication trees, every physician, nurse, and team member of the Women's & Children's Service line should be aware of solutions or issues within 48 hours (or their next shift). In this regard, you may see emails from "Women's and Children's Service Line" detailing specific announcements.
One of the first initiatives that the LMS was used was around the White Board initiative and it was widely successful. Rapid communication from the Service Line leads to the unit leaders and then to the bedside team members brought information that highlighted the renewed push to improve our White Board use. Within a couple of weeks, our use of, and completion of, the White Boards improved dramatically.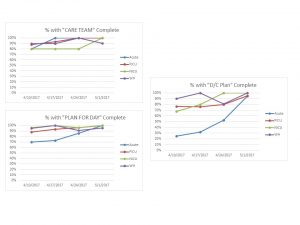 If you have any questions or concerns about communication within the Service Line, please do not hesitate to reach out to your Unit Manager or Director and/or myself.
Filed Under: Features
Tags: jrs3yc