By Dr. William Petersen Jr, Associate Chief Medical Officer UVAMC, Children's Hospital Associate Professor, Pediatric Hematology-Oncology, UVASOM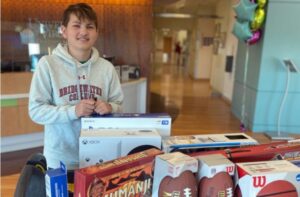 I've been part of the treatment team for Luke Post, a 15-year old with T-Lymphoblastic Lymphoma, for almost 2.5 years now. He's a special guy! There's a toy closet in the clinic where kids can go after a hard day of treatment to pick out a prize. Luke realized there were not a lot of teen-appropriate toys to choose from, and one day decided, "I want to help other kids like me." So, he designed a t-shirt and started to sell them to raise funds for the toy closet. He has now raised almost $8,000 to stock the closet with books, video games, toys, and movies that are teen-appropriate.
Every year, the NY Yankees host #HOPEWeek and feature a different Hope Hero each day. The Yankees came across local news coverage about Luke and his fundraising efforts and asked him to be one of their heroes! I was fortunate enough to be in the virtual room when 5 Yankees players called Luke on Zoom to basically say, "Hey man, we think you're awesome!" They told him he was doing great work lifting others up and that they wanted to honor him for this. How cool! Later in the week, they met up with him virtually to play a baseball video game. (He beat them 5-0, just for the record.) Luke is traveling to NY to hang out with the Yankees, tour the dugout, and throw out the first pitch at a game in a couple of weeks!
Luke has been through a lot during his treatment, but he finishes therapy very soon. This is a great example of a kid who is going through something so difficult, yet is somehow thinking of others. It is wonderful to see him get this recognition, he is so deserving!
In the news
UVA TODAY: NEW YORK YANKEES HONOR UVA CHILDREN'S PATIENT
UVA Health Giving: True to His Nature
NCB 29: 15-year-old raises thousands to help fellow teenage cancer patients at UVA Children's Hospital
CBS 19: UVA Children's patient recognized by New York Yankees
NY Yankees Twitter
Players joined Luke Post for some friendly competition on MLB The Show
Yankees players joined Luke Post to play video games virtually
T-shirt information
The "no one fights alone" t-shirts designed by Luke can be purchased here.
Filed Under: Features