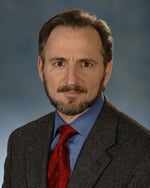 Dear colleagues,
This past Friday marked the 8th anniversary of the Main Event, the premier fundraising activity for the UVA Children's Hospital. The party was fantastic! There was great food, drinks, music, even gambling – all for the best of causes. The most remarkable aspect of the event was that nearly all the work involved was the product of community volunteers, more than a dozen individuals from our community who donate their time, creativity and considerable energy to make this party great. They do this because they care deeply about the work we all do to make and keep children well. These volunteers deserve our deep appreciation.
The Main Event and other development activities also point up the important role played by philanthropy in achieving the missions of the Children's Hospital and the Department of Pediatrics. You probably know that there are many functions involved in our missions that are not reimbursed or supported by outside funds. For these, we rely on philanthropy. As you look around our Children's Hospital you will see many things that were provided by the love of our community donors. If you work in the Battle Building, this message is obviously not lost on you. And of course it extends beyond the building itself. You may have seen volunteers handing out books to the children in the waiting area – these books are the gifts of the Beker family. The art is chosen and hung by volunteers Kelley MacDougall and Nancy Artis. Our palliative care program is supported by an anonymous donation.
It is the perfect time to pause in gratitude for the many contributions of our donors and volunteers, and to appreciate how they make us better at what we do. Please take the opportunity to thank them, and our outstanding Development Team, for the work they do. Remember that you also play a role in helping the Team to be successful, just as your gratitude goes a long way to reinforce the generosity of the donors.
Thanks for all you do.
Filed Under: Features
Tags: dept-chair, JPN2R