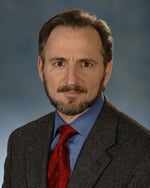 With the recent visit of the LCME to the University of Virginia School of Medicine, it is a good time to focus on our education mission. I was personally proud to meet with the LCME site visitors, and proud to talk about the great education programs we have here at UVA.
Education is important to all of us because by imparting our knowledge and wisdom to trainees, we impact the quality of care that they provide for many years to come. Indeed, because of this amplification effect, we probably help more children by teaching others than we do in our direct clinical care or research endeavors. Our many terrific teachers in the Department of Pediatrics have impacted the care of countless children over generations.
The site visitors were impressed by our UME programs, and they were particularly struck by how much the students seemed to love the NexGen curriculum. It takes more effort to design and implement NexGen, and busy clinicians sometimes find it hard to fit teaching into the first two years of medical school into busy schedules, but I feel that our contribution to NexGen makes a huge impact on the students' ability to integrate basic science knowledge into their future clinical practice. As I have encountered students on the wards, I have been impressed that they have a more integrated outlook than students who learned under the old curriculum.
The LCME visitors were also impressed by our clerkship, and the many great teachers the students encountered. Soon, we will be adding video lectures to the student experience, which will help homogenize the experience across the three clerkship sites (Richmond, Fairfax, Charlottesville). This innovation will provide a further boost to an already fine experience.
Our residency program remains a pride of the Department. I know that many faculty recruits have been drawn here by the outstanding residents we have, and the fun we all have in teaching them. Keeping that program strong, and improving it as we are able is a major priority.
Our fellowship programs are also a source of pride and enrichment for many of our subspecialty services. I would like to see more fellowships in our Department, and to standardize the fellowship experience in various ways, particularly with regard to mentored scholarship. Mentoring fellow research is a rewarding way to develop one's own research program, and to teach while doing it. Making this smoother and more productive is another Department priority.
Thanks to all of you who are devoted to the teaching enterprise. It is one of the things we do best at UVA and should be cherished as a core competency.
Filed Under: Features
Tags: dept-chair, JPN2R