The University of Virginia was honored to have Johannes Carolus (Hans) Clevers, a professor in molecular genetics, a geneticist, physician, and medical researcher, present the second annual Betsy and Stuart Houston Lecture, on April 27, 2017.  His lecture attracted many and was very well attended, as the entire Medical Education Building Auditorium was full. In addition, a live airing was available to attendees, on screen in a separate area.
Dr. Clevers was the first to identify stem cells in the intestine and is one of the world's leading researchers on normal stem cells and their potential for regenerative therapy.  Clevers obtained his M.D. in 1984 and his Ph.D. in 1985 at Utrecht University.  He was a professor in immunology there between 1991 and 2002. He is currently a Professor in Molecular Genetics at the university. The Spinoza Prize was awarded to him in 2001 and he became director of the Hubrecht Institute in 2002. He was elected as the president of the Royal Netherlands Academy of Arts and Sciences (KNAW). Clevers oversees his own research group at the Hubrecht Institute and has been the Director of Research of the Princess Maxima Center for pediatric oncology since June 1, 2015. He was awarded the $3 million Breakthrough Prize in Life Sciences for his work in 2013.
Sponsored by the Child Health Research Center, the talk was entitled "Lgr5 stem cell based organoids and their applications in cancer research." Dr. R. Ariel Gomez, Director of the CHRC, was pleased with the perfected timing of such an endeavor, as a year in advance is often the minimum required time to invite a renowned researcher with the breadth of balancing a schedule of this competence.
Betsy and Stuart Houston provided the monetary gift to endow the second annual Houston Lectureship. Although Betsy Houston, a previous patient of the University of Virginia Medical Center, passed away in 2015, she and her husband provided a contribution prior to her death to support various Medical Center programs.  The lectureship gives us the opportunity to invite an outstanding scientist to visit the University each year.
Dr. Clevers spoke to various labs individually during his visit on the morning of his lecture. He also shared his expertise, inviting junior researchers to a luncheon where they had the opportunity to ask questions.  We entitled this working lunch, "The Making of a Scientist" and it was fitting, as the caliber of Dr. Clevers' accomplishments inspire young investigators.
We ended the day with an honorary dinner at the Darden School of Business, which was rich in history, education, and beautifully maintained Jeffersonian architecture.  This venue provided the ideal ambiance to pay tribute to Dr. Clevers and his imprint on the University.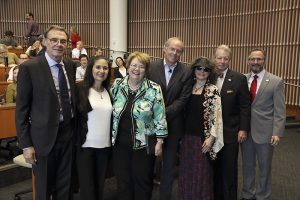 Filed Under: Features
Tags: RG