Culture of Safety Survey
In December, the Medical Center took part in the Agency for Healthcare Quality & Research (AHRQ) Hospital Survey on Patient Safety Culture. We are able to use this survey to compare the Culture of Safety here at UVA to other hospitals. We have previously taken part in this survey in 2008, 2010, and 2012. The survey is designed to measure twelve dimensions of culture pertaining to patient safety. These include:
Communication openness
Feedback and communication about error
Frequency of events reported
Handoffs and transitions
Management support for patient safety
Nonpunitive response to error
Organizational learning – continuous improvement
Overall perceptions of patient safety
Staffing
Supervisor/manager expectations and actions promoting safety
Teamwork across units
Teamwork within units
A total of 225 respondents identified themselves as working within the Children's Hospital or the Department of Pediatrics. Compared to the entire Medical Center, the Children's Hospital scored higher on every one of the above domains. There were significantly more favorable responses than the entire Medical Center on questions pertaining to teamwork across units, mistakes have led to positive changes, and evaluation of the effectiveness of changes made to improve patient safety. Compared to the survey administered in 2012, this year's survey results for the Children's Hospital showed considerable improvement in every one of the above domains as well except for the domain of handoffs and transitions. Another area the Children's Hospital needs to work on is the domain of nonpunitive response to error.
Thank you all for participating. If you would like more information, please do not hesitate to contact me or your unit/area manager or medical director. In addition, unit/area specific culture results should be coming soon.
2015 Virginia Patient Safety Summit
Several members of the Children's Hospital attended the 2015 Virginia Patient Safety Summit in Richmond on January 29-30th. The Virginia Hospital & Healthcare Association sponsors the annual summit. Two quality projects that were sponsored by the Children's Hospital were presented during the annual Poster Symposium.
Mia Campbell, RN, and Tausha Grimm, BSN, RN presented the poster "To examine the integrity of a chlorhexidine impregnated gel central line dressing compared to a standard chlorhexidine impregnated disk and central line dressing" which showed that a new type of central line dressing with chlorhexidine impregnated within it had the same integrity, made it easier to view the central line, and was cheaper than the previous standard dressing. This dressing is now being made the standard dressing for central lines across the hospital.
Gigi Gentry, RN, and Tamara Wheeler, RRT, presented "Decreasing unplanned extubations in a neonatal intensive care unit." This multidisciplinary group worked together to decrease unplanned extubations from a peak of more than 11 per 1,000 ventilator days to nearly 2 per 1,000 ventilator days.
In addition, Tracey Hoke, MD, MSc presented as part of a panel during the break out session on "The Medical Record: Patient and Provider Partners for Safety." Brooke Vergales, MD, Jonathan Swanson, MD, MSc, and former Neonatology fellow Andrew Bowe, DO, MSc were recognized as a Virginia Quality Scholar after participating in the Institute for Health Care Improvement (IHI)'s Open School Virginia Chapter's year-long program.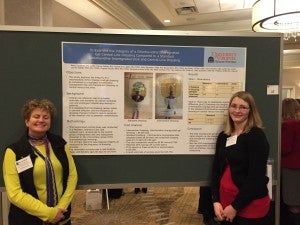 Chlorhexadine Gel Dressing
Pictured: Mia Campbell and Tausha Grimm; Authors Not Pictured: Marnie Painter, Holly Nicholson, Becky Berry, Jen Glass, David Strider, Lauren Walker, Virginia Syptak, Jacqueline Keller, Mark Conway, Lisa Letzkus, and Beth Quatara.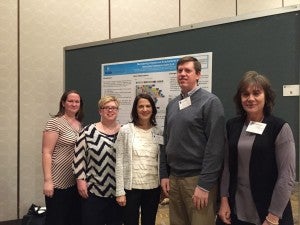 Unplanned Extubations in the NICU
Pictured: Janine Smith, Tamara Wheeler, Gigi Gentry, Jonathan Swanson, Evie Nicholson; Authors Not Pictured: Andrew Bowe, Janet Glass, Tim Hicks, Deb Owens.
Filed Under: Features
Tags: jrs3yc