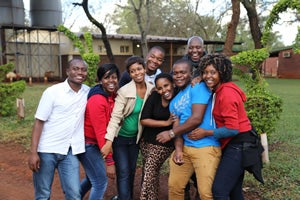 My connections to South Africa began during the 1970's with protest rallies against the ubiquitous offences of apartheid. We boycotted U.S. corporate involvement and lobbied our college trustees to divest the endowment linked to South Africa. We hosted Desmond Tutu on campus and supported letter writing campaigns to pressure U.S. lawmakers to lead international pressure against the oppressive South African regime. Work against apartheid continued through the 80's, until the dismantling of apartheid began in 1986 with the Comprehensive Anti-Apartheid Act, which passed through the U.S. Congress despite President Reagan's veto.
So it was with a deep sense of respect for history that Cathy Campbell, PhD, and I led a group of seven health professions students from UVA to Limpopo, a former homeland, in the northern corner of South Africa. Funded by a grant from the Macy Foundation for interprofessional education, our group designed, implemented and evaluated a 2-day training for Home Based Carers in two rural health centers. The project included two  faculty and six nursing students from the University of Venda as well as partners from the Vhembe Health District. Drs. Becca Dillingham and Marianne Baernholdt followed Cathy and me to support the students in the final week of the project. Peggy Plews-Ogan, MD, from General Medicine, was part of the planning and advising team.
Outcomes from the project include:
A model for training that can be scaled up for use across the health district,
A training curricula for hypertension and diabetes, and
An educational model for interprofessional education in community global health.
Future goals include extending the content areas next year to diarrheal disease and post-partum depression.
We are hopeful that several publications will come from this year's work, written jointly with our colleagues at the University of Venda (Univen) and with our students. Currently, three public presentations are planned. The group will be submitting abstracts to national and regional meetings as well. Leaders at the Univen have a keen interest to build sustainable partnerships with faculty and students at UVA. Health equity and health justice are two specialty areas at Univen that would provide an excellent opportunity for a motivated resident to participate in global health advocacy, specifically for children in the Limpopo district of South Africa.
Filed Under: Features
Tags: global-health, JLP3Z