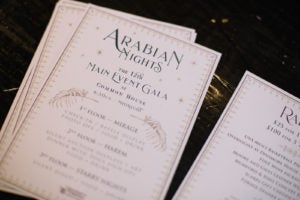 The Main Event
by Kate Rullman and Dr. Michael Engel
The 12th annual Main Event Gala was held at Common House on February 2, 2019. The sold-out event generated $300,000 for the pediatric cancer program at UVA Children's Hospital. Over 55 Heath System faculty and staff were in attendance and enjoyed an Arabian Nights themed event dancing to a silent disco and bidding on numerous silent auction items. This is the largest event put on by the Children's Hospital Team in the Health Foundation offices and has raised more than $2M to a variety of areas within the Children's Hospital since its inception.
"My favorite part of the event is working with so many different, generous community partners – from the photographer who donates her time to the talented lighting and a/v crew to the energetic volunteers – this event wouldn't be possible without the help of MANY!" said Kate Rullman, Associate Director of Development.
Dr. Michael Engel, Pediatric Hematology and Oncology, enjoyed participating in his first Main Event. "Being new to Charlottesville, I have to say that I'm blown away by the passion and enthusiasm for our Children's Hospital on display at the Main Event. There is a palpable sense of belonging to one another that is unique and special, and I'm thrilled to be a part of it all. Having the best care for children starts with this committed and energized community!  We are so grateful for this jewel; a world-class Children's Hospital delivering cutting edge care to all who need it. UVA Children's Hospital most definitely reflects the city that supports it."
Please enjoy all of the event photos.
Filed Under: Features