Kristi Gott MSN, RN, PNP-BC
Kevin Lonabaugh, Clinical Pharmacist, Pediatric Ambulatory Care
Rhonda List, QI Operations Coordinator, PEP facilitator in training
Lauren Ahrens BSN, CPN, RN Care Coordinator
Partnerships Between CF Families and the Clinic Team
by Kristi Gott, MSN, RN, PNP-BC
How we use open conversation, based in mutual trust, to produce best results for our patient's care.
All of the care team members on our CF team hold this value at the top of their list for the day at each of our patient visits. The trusting relationship we get to build with our patients and their families over time is like a dance- it shifts and changes with levels of illness, growing up, and during times of change or transition. It can be made up of small moments like starting a new medication and big moments like needing to come into the hospital for IV antibiotics for the first time. We encourage our patients and families to reflect on specific times where they have really felt connected with a team member or care provider… we want them to know that we are contemplating this and working to improve this each and every time we see them. We survey their experiences in an ongoing manner to assess how we are accomplishing this and incorporate their feedback to make further change.
So how are we trying to accomplish this when we see them? Well, it starts with how their visit is opened even before the actual day that it happens. This is the pre-visit planning part when they are asked what they would like to discuss, important items to bring up, changes they think we need to know about, and who they would like to see. This way, they can guide us about how they would like the visit to run, make sure we cover everything that is on their list for the day, and take into consideration what scheduling issues they may have during the day of their visit.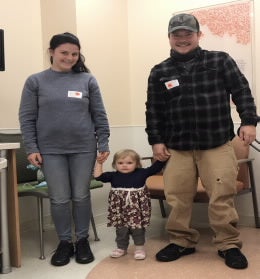 During the visit, we may ask what's new in their lives, how hard is it to fit their regimen into all that they have to do in a day, and is there anything getting in the way of them doing it? We certainly realize that CF is only one part of their lives! We trust that they know best about how their body feels, what works and doesn't work, as well as what is the best way to plan things going forward. We can share our expertise, the data to support our decisions, and what we think best planning is for them or their child's health but ultimately, it is the decision they make, or we make together that is the best choice.
Why is delivering care this way a focus for health care now? Research shows that if we provide care this way, health outcomes will be better. And if their overall health is better, then their lives are better! If they guide us in their care, acting as our partner in the process, then the quality of their mental and physical health is better in the short and long term. When we get to be care partners it is a win-win for them and also for us. Research shows us that this leads to better outcomes for our care team members in regard to job satisfaction and nurturing work environment as well as better outcomes for our CF center and health system at large.
Chaitoff et al, Acad Med 2017; Boissy et al, J Gen Intern Med 2016; Dwamena et al, Cochrane Database Syst. Rev Interventions 2012; Haskard et al, Health Psychol 2008
Kelley et al PLoS One 2014; Hojat et al Acad Med 2011; Young et al, J Ambul Care Manage 2016; Nafradi et al, Chronic Illn. 2017; Biglu et al, Materia Sociomed 2017; Dwamena et al, Cochrane Database Syst Rev 2012; White et al, Patient Educ Couns 2015; Kennedy et al, Pat Experience J 2014.
Teamwork Makes the Dream Work: Partnering with The CF Care Team
by Kevin Lonabaugh, Clinic Pharmacist
Partnering is a crucial part of the cystic fibrosis (CF) journey and involves developing honest, open relationships with members of the CF care team. As care team members, we realize that there is a lot more that goes on in patients and families' lives than just CF and we enjoy getting to learn about the whole story. The pediatric and adult CF care teams recently had the opportunity to complete the Partnership Enhancement Program (PEP) training through the CF Foundation. This training focused on developing skills and tools that aim to improve the quality of care that we deliver to patients and families for both in-person and telemedicine visits. Here are some of the highlights from this training:
Establishing trust: The CF team wants patients and families to feel comfortable discussing whatever needs to be addressed at a particular clinic visit. This means that we try and seek out everything that patients would like to talk about that day both before and at the start of the visit. It is what we call "agenda setting". However, we also like to hear about what's going on in life outside of CF. We ask questions about hobbies, pets, school, and sports and enjoy hearing about all of it. We started using white boards in the clinic rooms to give patients and families an additional chance to express what's new and exciting in their worlds. The other piece to this is that the care team also tries to share pieces of themselves with patients and families. We have a sheet with team biographies that we provide to new patients and families and work with connecting with patients and families over time. Trust is a two-way street and so we aim to make ourselves open and accessible.
Creating open dialogue: In order for the team to develop a plan that works for the patients and families, we need to have the most complete and up-to-date information available. We ask lots of questions and want patients and families to have plenty of time to talk to discuss successes, problems, and emotions. One of the tricks in partnering is to name emotions and to recognize how we might be feeling in a certain situation. In doing so, it helps the team better understand what people are going through and helps us to connect with them in a stronger way. While the team's ultimate goal is to have everything related to CF going well, we need to know when things aren't and having families who are open with the team is really important.
Set goals by partnering: The best laid plan is never going to work if a patient or family does not feel strongly about it too! Our goals are developed mutually and rely on their input. We try and provide as much information as possible and frame the conversation so that patients and families feel well-educated when making these decisions. At the end of the day, partnering means that we share the same goal and work together to come up with a reasonable plan to achieve that.
While the team completed initial training, it does not mean that we are done learning or that we aren't motivated to get better and continue to improve. Kristi and I currently serve as the team's Partnering Champions and attend conference calls every other month to learn about new skills and new topics in order to better our partnering activities. As a team, we practice these skills together at our weekly team meeting. And of course, we try to use them in each and every visit! At the heart of it all, partnering recognizes the critical role that patients and families play in optimal CF care and seeks to empower them to work with the team to help improve care.​
Sharing with all of you some of our partnering tools here: PEP Skills card
Filed Under: Features