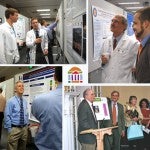 The 26th Annual University of Virginia Children's Hospital Research Symposium will be held on Thursday, May 15, 2014. The symposium will feature research presentations, a reception and awards ceremony, and a guest speaker.
The 2nd Annual Research Trainee Competition featuring platform presentations by fellows, residents and other trainees will be held on Thursday, April 24.
Abstracts are due by Friday, April 11. See information about the symposium format and abstract guidelines.
Note: The number of posters is limited (approximately 50) due to space. Posters will be accepted on a first come first serve basis.
For more information, please contact Maria Luisa Sequeira Lopez (msl7u@virginia.edu) or Lisa Palmer (lap5w@virginia.edu).
Filed Under: Events, What's New
Tags: research