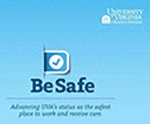 As you are probably aware, UVA Health System is undergoing a significant makeover when it comes to quality and safety. Known as "Be Safe", it is unlike anything ever done before at UVA. Brought here by Executive Vice President for Health Affairs Richard Shannon, MD, the Be Safe initiative empowers front-line team members – from the bedside nurse to environmental services personnel – to identify and call out safety and quality issues. This identification triggers a systematic, real-time problem solving process that pulls in leadership support. The ultimate goal of Be Safe is to become the safest hospital in America. This will happen as we "develop the skills, discipline and confidence to become habitually excellent in all that we do."
When there is a quality or safety issue or even, the first step is to meet the patient's or team member's immediate need. The shift manager will then gather all team members together to obtain all the "perishable" information of the event. Typically after a safety event, it takes several days to even weeks to get everyone's input on the issues involved. The Unit Based Leaders (UBLs) will then help coach the team to solve the problem or event to its root cause. If needed, the UBLs will use the Help Chain to pull in leadership support to overcome barriers. The team will then test any changes they implement to prevent harm going forward and fix the root cause of the event. The final step is sharing this learning with the entire health system. Here is a video detailing this process.
This spring, the Medical Intensive Care Unit (MICU) and 5 Central were the first two units to pilot the new process. The first problem they worked on was catheter-associated urinary tract infections (CAUTIs). The UBLs of the two units found that when they asked team members if there was a standard process for providing peri-care, everyone said "Yes!" However, when observed, they found that some members performed peri-care in seven steps while others required over 20 steps! The unit leaders, with the help of front-line staff, then developed standard work for peri-care. Since then, they have seen a dramatic reduction in the number of CAUTIs.
The inpatient units of the Children's Hospital (Pediatric Intensive Care Unit, Neonatal Intensive Care Unit, and 7 Acute) were selected as the next units to apply this methodology. We anticipate "going-live" on August 11th. You will soon be receiving information from managers and directors on how you can get involved and learn more about Be Safe!
Be Safe Glossary:
A3 – A format for structured problem solving on a single sheet of paper using a standardized method. Named for the size of paper that is used (11×17).
Five Whys Process – Used in Root Cause Analysis, this process involves asking "why" five times. Each response serves as the basis for next question, ultimately bringing the root cause into focus.
Help Chain – The organizational support system in place for when problem solving cannot be accomplished right away. It is available 24/7 and is used when problems need to be escalated.
Situation Room – McKim 1116, where scientific method problem-solving tools and UVA Health System event data are visually displayed. Contains problem solving tool displays and UVAHS event data. During daily huddles, Health System leadership reviews patient deaths, catheter associated urinary tract infections (CAUTI), central line associated blood stream infections (CLABSI), falls and pressure ulcers. They also review UVAHS team member injuries. All UVAHS team members have access to this room.
Standard Work – An agreed-upon best way known today to perform each operation and process. Has clearly specified steps.
UBL – Unit based leadership; Nurse Manager, Medical Director, Improvement expert/coach and others identified as first responders when a problem is identified and can't be immediately solved by front line team members.
Filed Under: Features