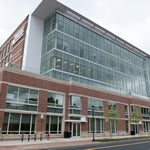 Today marks the completion of the moves of most of the Children's and Women's clinics that were planned to occupy the Battle Building. Not yet relocated are Pediatric Urology, Pediatric Neurosurgery, and Pediatric Otolaryngology, which will relocate soon. Dates to be announced as relocations occur.
Relocated are the former KCRC clinics (developmental pediatrics, Orthopedics Children's Dentistry, Audiology), Associated Children's Imaging, the former Primary Care 4th Floor Clinics (Cardiology, Specialty Pediatrics, General Pediatrics), the Fetal Care Center, obstetrical services from Primary Care 3rd Floor, and the Teen and Young Adult Health Center.
On August 5th the Outpatient Surgery Center will complete relocation and open in the Battle Building.
Filed Under: What's New