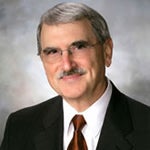 The ASPN Awards Committee has selected Robert L. Chevalier to be the 2014 recipient of the ASPN Founder's Award.  This award was created in 1996 to recognize individuals who have made a unique and lasting contribution to the field of Pediatric Nephrology.
UVA Pediatrics congratulations our own Dr. Robert L. Chevalier on receiving the Founder's Award from the American Society of Pediatric Nephrology. This lifetime achievement award from his colleagues reflects Dr. Chevalier's clinical acumen, research and scholarly achievements, mentorship, and leadership for the field. Here's what Dr. Chevalier had to say about his achievements:
Q: What does this award means to you?
A: I am truly honored to be the recipient of this award: it represents recognition by my peers that I have made significant contributions to Pediatric Nephrology over my career, which now spans 39 years.
Q: One of the conditions of the award is "Must have contributed significantly to the ASPN." Please tell me about how you have contributed to the ASPN.
A: I have been a member of ASPN throughout my career, and have served leadership roles as Councilor and President. I have also participated in almost every annual meeting since 1975, presenting invited talks, platform presentations (free communications) and posters.

Q: Another condition is "Must have made significant clinical, scientific and/or leadership contributions to the field of pediatric nephrology." Please tell me what significant moment (or moments) stands out in your career.
A: I have served as Councilor in the International Pediatric Nephrology Association (IPNA), and as a member of the editorial board of its journal, Pediatric Nephrology. I chaired two International Workshops on Developmental Nephrology and served as chair of an NIH State of the Art Strategic Planning Workshop on Congenital Urinary Tract Obstruction.
My research in pediatric kidney disease has been funded by the NIH for over 35 years, with over 200 published papers and chapters.
One of my most unique experiences was an invitation to serve as "examiner" for a PhD candidate defending her thesis at the Karolinska Institute in Stockholm. The two-hour formal event was followed by a party in a brewery that lasted late into the night.

Q: You've been with UVA for 36 years. What is the best part of working at the University?
A: When I arrived at UVA, I was the only pediatric nephrologist—there are six of us now. It has been gratifying to see my Division, the Department, and the School of Medicine grow and thrive over three decades. I believe the best word to describe the University is 'collegial': it attracts bright, dedicated people who work together well in a beautiful environment.
Congratulations Dr. Chevalier for an award well deserved!
Filed Under: Features