Bushiri Salumu, a refugee from the Democratic Republic of Congo, moved to the United States in 2012 after coming from a refugee camp in Zambia. He took classes with the International Rescue Committee and worked with the Literacy Volunteers of Charlottesville-Albemarle to earn his GED and citizenship. He now works as a Patient Care Assistant in the NICU, is pursuing nursing school, and wants to work at UVA full-time after graduation. Learn more about Bushiri and how he's made the NICU a little bit brighter.
A conversation with Rachel Nauman, NICU Nurse Manager, Hannah Gall, NICU Assistant Nurse Manager, and Lisa Bryant, NICU Assistant Nurse Manager
Q. How long has Bushiri worked in the NICU? Tell me about the type of work he does.
A. Bushiri is a new team member for us. He was working as a housekeeper with UVA prior to the NICU. He's worked at UVA since 2014 and has been with us for about 3 months.

Bushiri's role is Patient Care Assistant. In the NICU, he performs a multitude of tasks. He manages supplies and inventory, prepares beds for admissions, and, most importantly, he provides direct patient care with a nursing partner. This means he takes care of feedings, baths, checking vital signs, taking labs – many hands-on duties. Bushiri assists with surgeries and procedures, as well.
Q. How did you find out about his story?
A. Bushiri shared a bit about personal history when he interviewed, but only a very small part. After we made the offer, his previous supervisor Ryan Gumlock, Custodial Services Superintendent, reached out to us. He told us what a gem Bushiri was and shared more. Ryan knew Bushiri wouldn't tell us the details of his story because he is so humble. Ryan helped us understand what we found in Bushiri and validated that the NICU PCA role would help him achieve his dreams.
Q. How has he impacted your team?
A. Bushiri brings so much positivity and light to each day. No matter how hectic it gets in the NICU, he remains calm. He is always so gentle and patient with the babies and his teammates.
Bushiri flawlessly handles situations when most people would panic. Today, when Bushiri was feeding a baby, the baby started having difficulty eating. Bushiri remained calm and appropriately responded to the infant without any instruction. He really has an advanced critical thinking skill set.
Q. How has he impacted patients he works with?
A. Bushiri treats everyone with dignity. He's so incredibly respectful. He is humble. He has a respect for inclusion and diversity. He's grateful to be here and does not take his position for granted. Bushiri knows he can truly make an impact with his work.
Q. Anything else you'd like to add?
A. With the first handshake of his interview, we knew we needed Bushiri on our team. He exudes kindness, and his determination is palpable. He has brought joy to our team and families already. His example of profound devotion to education and perseverance serves us all!
A note from Naomi Rademeyer, Bushiri's Nurse Mentor:
I have known and worked with Bushiri for more than four years. I met him while he was still working with housekeeping. In his new role as PCA, Bushiri has already earned the respect and adoration of coworkers and families. Parents of our NICU babies frequently comment on how endearing he is and how he talks to and holds the babies. The babies can sense his calmness. I feel honored that my management team asked me to be his mentor in the NICU because I know how it feels to come into an environment with which you are unfamiliar and with a language deficit. He was raised speaking French and only learned to speak English in the USA.  We bonded immediately, as we are both from Africa; however, we are from different countries.  Bushiri is a true inspiration with what he endured and with the struggles he experienced to come to America as a refugee. He is an inspiring role model on how to work towards reaching a dream and not give up. He is a great asset to the NICU and I am proud to work alongside him and help him support him during his journey to become a nurse.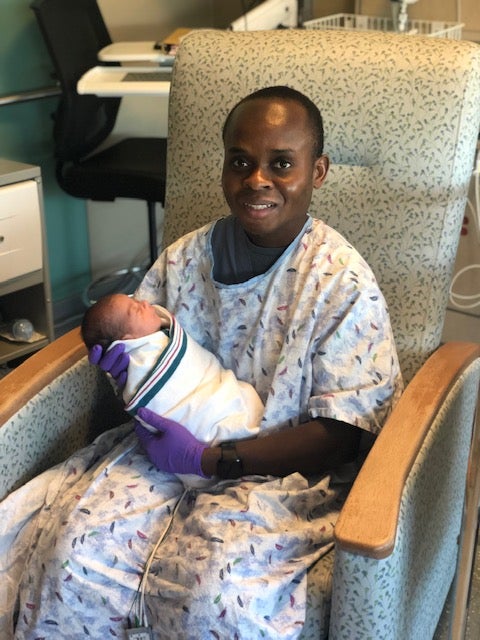 A conversation with Bushiri Salumu, NICU Patient Care Assistant
Q. Why did you decide to apply to a position with the NICU?
A. I came to America in 2012 and I'd been working with UVA Facilities Management since 2015. While I was working in housekeeping, I got my GED. After that, I applied to the nursing program at PVCC. With the program, you need to get work experience before you go to school. I applied for the NICU position and met with Rachel, Hannah, and Lisa.

Q. So now you're completing your pre-reqs at PVCC. What's your plan after graduation?
A. After graduation, I want to work for UVA Nursing. When I was young, my main objective was to study medicine, specifically in cardiology. My father was a physician and inspired me. But after working here in the NICU, I love the babies!

Q. What is the most rewarding part of your work?
A. I like the teamwork here the best. And I love to help children. The same way that others helped me when I was younger, I want to help now.
Q. Are there any stories that stand out to you from your work so far?
A. The first time I held a baby was the best. Feeding and changing a diaper were so different for me – it was a big change from my last job!
Q. How did you end up in Charlottesville?
A. In 2007, I wanted to leave the Congo and went to a refugee camp with my siblings. We walked for 11 months to get to camp. We lived there for 4 years before being granted asylum. I came to Charlottesville through immigration. My brother is now in Chicago and my younger sister is here in Charlottesville, too.
Q. What's your favorite thing about Charlottesville?
A. This community is so nice. I love the college town atmosphere – it has a small-town feel. The community is the best part.
Q. You were honored as the Dollar General Student of the Year in San Diego for the 2019 ProLiteracy Conference. How was the conference? How does it feel to be recognized for this award?
A. The conference was very good. That recognition was so special. I spoke no English when I arrived in America in 2008. It is much easier to learn a new language when you are young, for me at 22, it was VERY difficult.
Q. What would you like everyone to know about you?
A. I want people to know that I feel SO thankful to be part of this community. In this country, it doesn't matter where you come from or how you look. If you have a dream and you focus on it, you can do it.
For more information about Bushiri and his amazing story, check out NBC 29's coverage and the ProLiteracy Awards.
Filed Under: Features