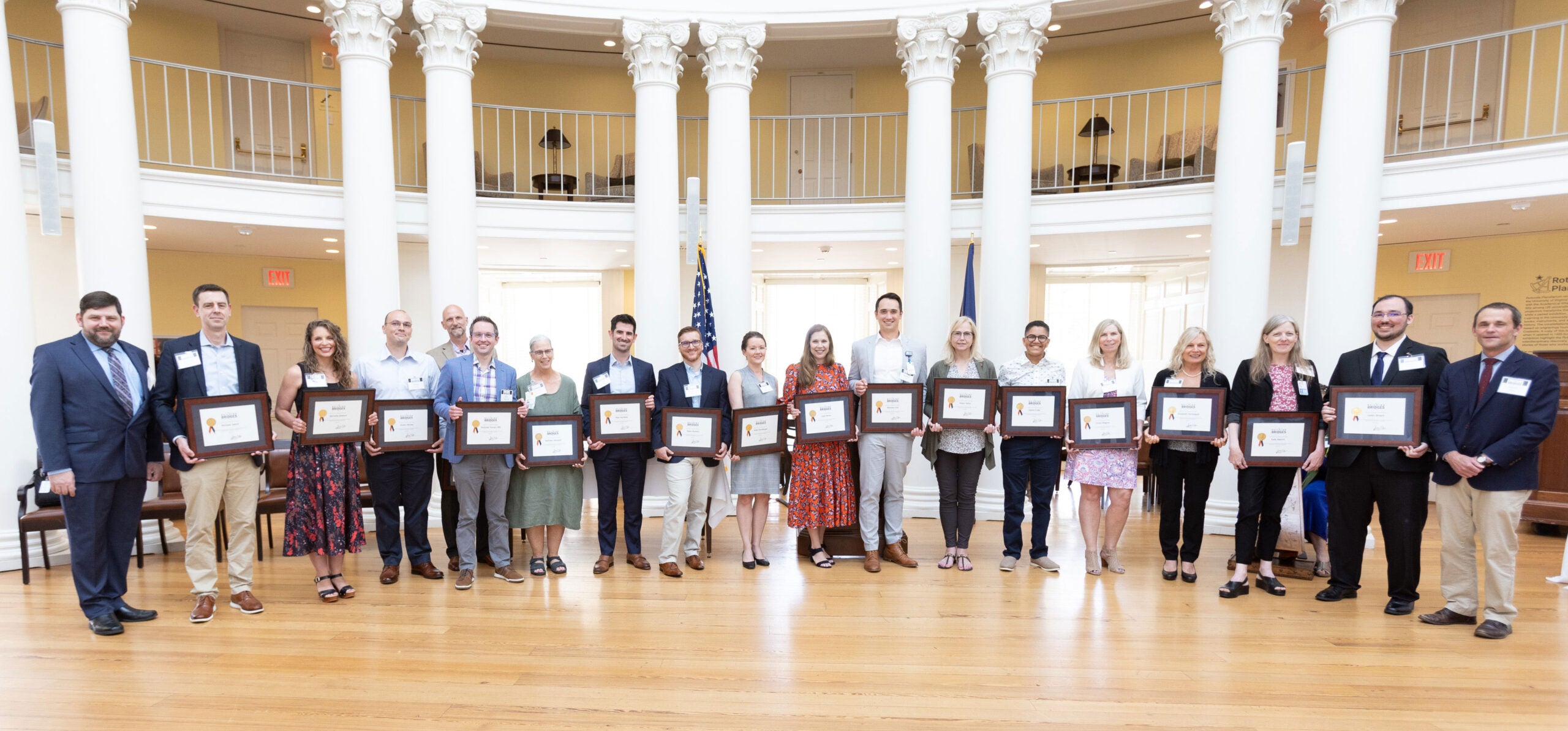 Brendon Coll, CPA, the School of Medicine (SOM) controller, received a Hoos Building Bridges Award, along with eight other individuals and two teams, at a reception on June 27 at the Rotunda. The awards celebrate cross-disciplinary partnerships and projects among UVA and UVA Health team members, and honors recipients for their leadership in establishing strong relationships that contribute to success and innovation across Grounds. Brendon was honored for his efforts to transition the School of Medicine's financial platform from Oracle to Workday Financials — an extensive undertaking requiring active engagement with multiple SOM stakeholders and finance partners throughout the University.
Brendon's nomination for the award was supported and co-signed by 92 members of the School of Medicine and UVA central financial leadership. The nominators collectively represent every unit of the School of Medicine, each research department, clinical department and center, as well as the Dean's Office. The nomination highlighted the significant efforts Brendon invested to optimize the Workday transition in the School, which included 18 months of work prior to go-live and ongoing meetings he continues to facilitate to share knowledge and enhance efficient use of the system. One of Brendon's nominators wrote, "His communication was great and without him I think it fair to say the SOM would have been facing an unmitigated disaster."
Brendon invested significant time and effort to learn aspects of SOM financial management routinely handled within SOM departments. As a result, he was able to represent SOM interests at University-level meetings, actively engage in University-wide "Pod" meetings, offering insights and understanding of other Schools' business needs. He engaged material experts throughout the SOM, offering them direct lines of communication to the Workday Financial build team.
Brendon was also thoughtful in how he engaged and collaborated with the UVA Finance experts involved with the Workday implementation and worked closely with the Workday team to develop enhanced approaches for account conversion/mapping and balance reporting. This focus on overall enhancements for the project, not just School-specific, is indicative of his commitment to both the School and the University as a whole. Another nominator stated, "Brendon's support this year was exceptional. UVA owes him a great deal for shepherding us all through the difficult transition to Workday Financials. His demeanor was always positive and upbeat, supportive and encouraging. He is absolutely a role model for us all!"
Read more about Brendon's recognition and the other UVA Health winners including UVA Health HIT Administrator, Kate Bakich, and two UVA Health team winners, a team of HIT provider trainers and a UVA Health inter-disciplinary team who developed guidelines to provide progressive mobility for femorally cannulated ECMO patients.
Filed Under: Honors & Awards