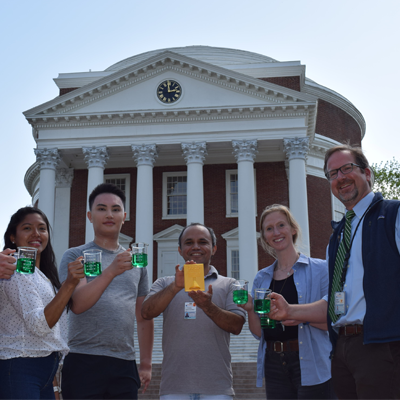 Sean Moore, MD, professor and principal research investigator in the Department of Pediatrics, Child Health Research Center, and his lab's participation in the 2022 Freezer Challenge contributed to the University of Virginia winning the Top Academic Organization Award for the 2022 International Freezer Challenge. This is the first win for the UVA Green Labs community.
The Freezer Challenge is an international and free program that helps research labs improve sample accessibility, sample integrity, reduce risk, and save costs for their institutions. The Moore Lab's participation in the freezer challenge was part of his lab's larger accomplishment of becoming a certified UVA Green Lab, for which they were awarded the highest level of certification. Moore Lab members, led by lab manager and postdoctural research associate Vinicios Alves da Silva, PhD, have been tirelessly working to reduce their scientific research footprint and became a more sustainable research environment.
For the freezer challenge award, UVA research labs will be honored at the International Institute for Sustainable Labs (I2SL) conference in October in Pittsburgh, PA, featured in both the I2SL and My Green Lab newsletters, and we will be featured in Lab Manager Magazine this autumn.
Learn more about the Moore Lab's sustainability efforts and The Freezer Challenge. 
More about UVA Sustainability Green Labs.
Filed Under: Faculty, Honors & Awards