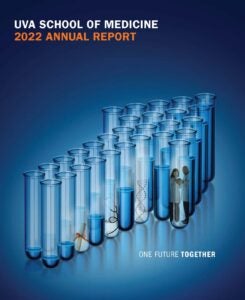 The University of Virginia School of Medicine 2022 Annual Report was distributed to alumni, SOM faculty, and top-rated SOM deans and leadership across the U.S. in December. The report is the School's first annual report in 20 years and highlights many national recognitions and accomplishments this past year. The incredible talent and excellence among the School's faculty, staff, trainees, students, and alumni have contributed to it's top rankings such as U.S. News & World Report's "Best Medical School" category where it was recently ranked #30.
The report details exciting milestones in the four mission areas of research, education, clinical, and community like Jochen Zimmer, PhD, being named a Howard Hughes Investigator, and Tracy Downs, MD, becoming the inaugural Senior Associate Dean for Diversity, Equity, and Inclusion in the School of Medicine. The UVA Cancer Center's designation as a prestigious NCI Comprehensive Cancer Center and the unveiling of the UVA Orthopedic Center after 10 years of dreaming and hard work are more proud moments. The past year has also been full of rigorous evaluation and historic boldness as the first enterprise-wide 2032 Strategic Plan for the future of UVA Health was presented. The School of Medicine is excited to have an aligned leadership team with UVA Health and the shared vision to be the nation's leading public academic health system and best place to work, while transforming patient care, research, education and engagement with the diverse communities we serve.
The annual report is available on the School of Medicine website or you may download the PDF here.
Filed Under: Alumni, Clinical, Community, Diversity, Equity & Inclusion, Education, Featured, Philanthropy, Research