A UVA Women Leadership Development Seminar (WLDS) was held on November 1, 2022 focusing on the topic of private vs. academic practice. Co-chairs of the event include Kamilla Esfahani, MD, Department of Anesthesiology, Anneke Schroen, MD, MPH, Department of Surgery, and Brittany Behar, MD, Department of Plastic and Maxillofacial Surgery. The seminar was well attended by residents and faculty from various specialties, eager to hear the wisdom shared by panelists.
The event began by recognizing the atrocities currently occurring in Iran — where women are leading a revolution to regain basic human rights, after the death of an innocent young woman, Mahsa Amini on September 16, 2022. The group acknowledged the people of Iran by celebrating the freedoms enjoyed in the US, knowing that even a democracy is fragile, and continuing to advocate for women through platforms like this UVA Women Leadership Development Seminar.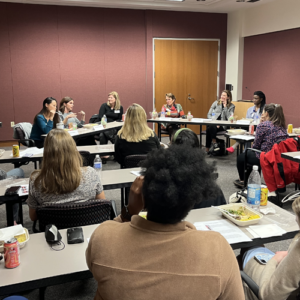 Discussion among participants flowed easily as panelists shared their experiences going from residency to their current career paths, the ups and downs, and intricacies of maneuvering through a world for which medical school and residency doesn't necessarily prepare them. The residents and faculty who attended contributed significantly to the discussion making the whole event a deeply enriching evening.
As always, the hope for these events is to bring the UVA community of women physicians closer – to learn from each other and make the path a little bit less rocky for the next generation.
Drs. Esfahani, Schroen, and Behar thank the Departments of Anesthesiology, General Surgery, and Plastic Surgery for their support, and Amaris Pulzinski for helping organize the event.
A big thank you is also extended to the following panelists:
Sunny Chiao,  MD, UVA Department of Anesthesiology
Cheryl Gaughen, MD,

Sentara Martha Jefferson Anesthesia Group

Renee Ward, MD, UVA Department of Obstetrics and Gynecology
Carolyn Wilson, MD, UVA Department of Obstetrics and Gynecology
Lynn Dengel, MD, UVA Department of Surgery
Sandra Kabagambe, MD, UVA Department of Pediatrics, Surgery
Filed Under: Diversity, Equity & Inclusion, Faculty