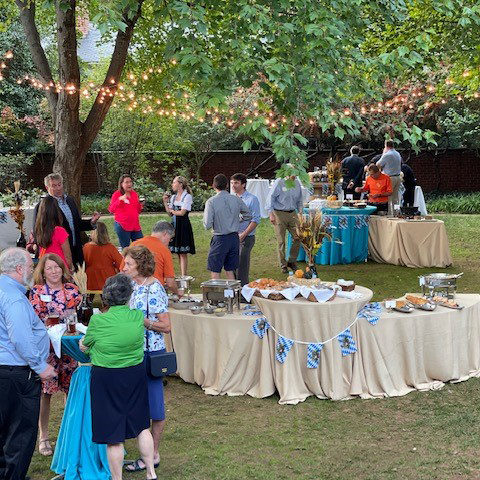 The UVA Alumni Board of Trustees has granted each 2022 newly-hired, full-time member of the UVA faculty a complimentary one-year membership to the Colonnade Club.
Memberships include:
Social programming, such as the Openings party and Oktoberfest
Programming which highlights the arts, sciences, history and culture of UVA, such as a presentation by Professor John Edwin Mason on the Holsinger Studio Portrait Project and a talk by Professor Emeritus Richard Guy Wilson on Brooks Hall
Weekly treat "pop-ups" with various local vendors
Daily coffee and tea
Founded in 1907, the Colonnade Club is UVA's Club for faculty, staff, and alumni. With over 1,000 members, the club provides a wide variety of opportunities to socialize, network, and create meaningful fellowship and community at the University. The Colonnade Club is considered one of the best location on Grounds for an an overnight stay in one of the eight well-appointed hotel rooms.
New Faculty Social Event and Membership Activation
On Thursday, September 1st from 4-7 pm in Pavilion VII and its Garden, the Colonnade Club is hosting a social to welcome all new faculty to Grounds. Activate your complimentary membership to attend.
New faculty may activate their complimentary membership here: https://member.colonnadeclubuva.com/default.aspx?p=DynamicModule&pageid=73&ssid=
For more information about the Colonnade Club, email info@colonnadeclubeuva.com or visit ColonnadeClubUVA.com
Filed Under: Faculty