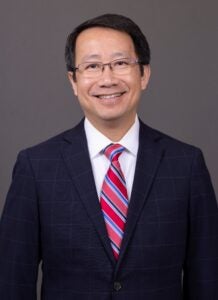 Lu Q. Le, MD, PhD, a nationally renowned cancer biology researcher has been named as chair of the Department of Dermatology, effective January 29, 2024.
Le comes to UVA from the University of Texas Southwestern Medical Center, where he serves as professor of dermatology and associate director of the physician-scientist track for the residency program in the Department of Dermatology.
"Dr. Le is an international leader in the field of cancer biology, an outstanding patient-care provider and a passionate educator who enjoys mentoring the next generation of physicians and researchers," said Melina R. Kibbe, MD, dean of the UVA School of Medicine and chief health affairs officer for UVA Health. "His commitment to all aspects of our mission makes Dr. Le an excellent choice to serve as the next chair of our Department of Dermatology."
A co-author of more than 70 peer-reviewed publications and holder of three patents, Le works to better understand how certain cancers develop from adult stem cells, as well as how adjoining non-cancerous cells direct the development of cancer cells. As a physician-scientist, he has made significant contributions to clinical care and biology of the common tumor predisposition genetic disorder known as neurofibromatosis type 1.
His lab has secured more than $17 million in grant funding from multiple sources, including the National Cancer Institute, National Eye Institute, the National Institute of Arthritis and Musculoskeletal and Skin Diseases, and the Department of Defense, among others. In addition, he has led efforts to fundraise more than $5 million to support his laboratory's research.
Le is also an active care provider to his dermatology patients and is the co-founding director and attending physician of the University of Texas Southwestern Medical Center Comprehensive Adult Neurofibromatosis Clinic in the Department of Dermatology and the Simmons Comprehensive Cancer Center.
As an educator, he has mentored more than 50 fellows and students while also helping lead the physician-scientist residency track in the Department of Dermatology.
"A 'triple threat' as a researcher, clinician, and educator – as well as a servant leader – Dr. Le is an ideal fit to help us implement our 10-year strategic plan, which calls for expanding our research programs, translating those discoveries to advance our outstanding clinical care, and strengthening our excellent educational programs," Kibbe said. "I look forward to his leadership of our high-quality dermatology team."
Le earned his medical degree and a PhD in microbiology, immunology and molecular genetics from the Medical Scientist Training Program at the UCLA School of Medicine. He went on to complete an internship in internal medicine at UCLA/St. Mary Medical Center, along with a residency in dermatology and a fellowship in cancer biology at the University of Texas Southwestern Medical Center.
Le is excited to join UVA's Department of Dermatology and build on its long tradition of excellence, with a focus on career development and mentorship to enhance the department's patient care, research, education, and community missions.
"I believe strong leadership is all about providing strategic vision and opportunities to inspire and empower others to be their best and most productive selves," Le said. "I believe that mentoring, advising and developing individuals to be the best version of themselves is not only essential to providing exceptional patient care but is also key to increasing career satisfaction."
Le will succeed Barrett J. Zlotoff, MD, FAAD, who has served as interim chair since April.
"I am very appreciative of Dr. Zlotoff's outstanding leadership of the department while we conducted this search for the next chair," Kibbe said. "I look forward to continuing to work with Dr. Zlotoff in the years to come."