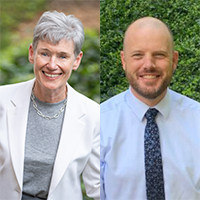 How is the Office of Faculty Affairs and Faculty Development working to provide dynamic, useful professional development learning activities for UVA faculty? In July, team members attended and presented during the Association of American Medical Colleges 2022 Group on Faculty Affairs (GFA) Professional Development Conference. The conference, held virtually July 13-15, 2022, is a valuable way to both share the work we are doing here at UVA and to learn from our colleagues doing amazing work in academic medical facilities across the country. Susan Pollart, MD, Senior Associate Dean for Faculty Affairs and Faculty Development, and Troy Buer, PhD, Director of Faculty Development, presented on the following topics during the conference:
Building your Advancement Portfolio: Creating a Database of Accomplishments
Promoting Mentoring Partnerships: Evaluating UVA's Early-Career Faculty Mentoring Program
Creating a Culture Free of Retribution: Reimagining the Future of Shared Governance
A Faculty Development Curriculum Focused on Building Your Career Infrastructure
Learn more about the AAMC Group on Faculty Affairs.
Filed Under: Faculty