Dr. Hans Olav Riddervold, a faculty member in the UVA Department of Radiology and Medical Imaging for fifty years who retired in 2008, passed away on July 14, 2022 in Norway.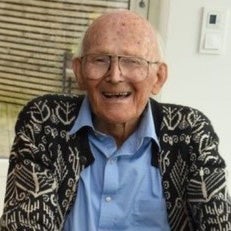 He is familiar to many UVA Radiology trainees, faculty and staff for the Riddervold Open Golf Tournament, which is part of each UVA Radiology Alumni Homecoming Reunion weekend and was named in his honor. He helped organize the tournament and provided awards, including some wine made from grapes from his vineyard, and maintained an active role even after his return to Norway in 2018. In fact, he was still supervising the April 2022 tournament and even selected prizes for the winners.
Dr. Riddervold's association with the department's Keats Alumni Society goes beyond the tournament named in his honor. In 1979, along with Dr. Daniel Seale, he founded the original iteration of the Keats Society. It was called the Keats Radiologic Society, named in Dr. Ted Keats' honor. In April of that year, he presided over its first-ever meeting, and remained in an active leadership role until the original iteration of the Society became inactive in 1994. In 2005, the Society was resurrected and Hans couldn't have been happier. He was always involved and wanted to help grow the Society and keep Dr. Keats' legacy alive.
Hans was beloved by his students, colleagues, staff and friends. As a radiologist and teacher, he had high expectations and standards, but through his gentle manner and soul, he was able to share with us many lessons about life, humility, and compassion. The impact of his kind spirit and thoughtful life-lessons that touched those of us who knew him represent his legacy.
Read more about Hans' life.