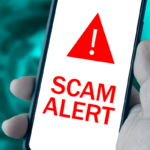 Please be aware of a phone-call scam where the caller pretends to be an officer from the Drug Enforcement Agency (DEA) and requests a physician's National Provider Identifier (NPI) and medical license number before proceeding.
These individuals are very convincing and many physicians across the country have been scammed into sending money to settle claims.
Reminder: The DEA will NEVER call you on the phone and will only contact you via certified mail or in person. Read more about phishing and information security.
Filed Under: Faculty