Dear School of Medicine Faculty,
On behalf of the UVA School of Medicine Students you are cordially invite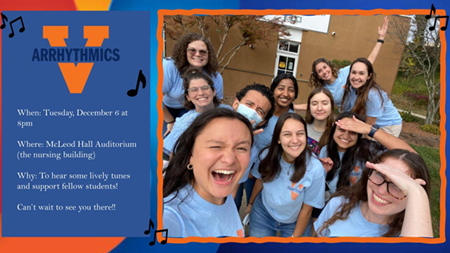 d to attend the 2022 UVA SOM Talent Show. Our students are excited to showcase a star-studded lineup of performers and emcees for this year's show.
The event is taking place at McLeod Hall this coming Friday, December 2nd from 7:30-9:00 pm and will showcase a broad range of talents, from hip hop dance, to acapella, and more!
As an added bonus, your favorite student acapella group, The Arrhythmics, is excited to serenade you before the holidays! The group will be hosting their winter concert next Tuesday, December 6th at 8pm in the auditorium in McLeod Hall. You won't want to miss this *less than 30 minute concert* full of some groovy tunes!
Please come out and support our well-rounded, amazing students. No tickets are required and entry is free. Everyone is welcome!
For additional details, please contact:
Emily Kaplan UXF6NF@uvahealth.org
Lindsey Furness WQA4RS@uvahealth.org
Filed Under: Community, Education, Faculty