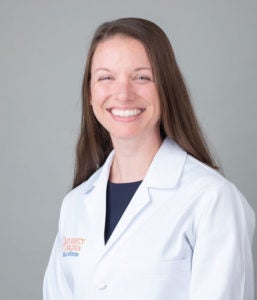 Meet Monique Vaughan, MD, Assistant Professor, Department of Obstetrics and Gynecology at UVA School of Medicine
This post is part of a series of interviews with new and junior faculty including special insights into their work as physicians during the COVID-19 pandemic.
Stay tuned for more interviews with your colleagues!
Q: What have you learned about your work as a physician in light of the COVID-19 pandemic?
A: This pandemic for me has been a great reminder of how much I love caring for patients, and how resilient and flexible we can all be. During the first couple weeks of the pandemic, my partners and I were having very little interaction with each other and patients because we had not yet established telehealth in our practice. I was missing that personal interaction with people and patients so much. Now that we have established telehealth in our practice, I'm so happy and grateful to be back seeing patients, albeit virtually. It makes me happy to see how grateful they are for our care, even if we are a bit limited in what we can offer during the acute pandemic. Overall, I have just been so impressed with the creativity, resilience and flexibility of our patients, teams and providers. I've been so proud to be part of our community and health system through all of this.
Q: How long have you been at UVA and where were you before you came to UVA?
A: I was at UVA for my obstetrics and gynecology residency training from 2012-2016. Then I went away for Urogynecology fellowship at Duke, and had the great privilege to return to UVA when I completed fellowship this past summer (2019). I have loved being back and seeing all the changes, but also the great things that have remained. I was drawn back to UVA for so many reasons — the collegial atmosphere, kind people, world-class physicians and researchers, eager and diligent students, the opportunity to care for so many patients in need; these are just a few of the many reasons!
Q: Is there something that you've accomplished in your career or in relation to the COVID-19 pandemic that you're particularly proud of or glad you were able to experience?
A: My answer to this question is similar to the first — I've really enjoyed the opportunity to learn the details about incorporating telehealth into my urogynecology practice. I think this is a phenomenal resource for us as providers and our patients. I'm really excited to see how we can continue to use this platform, even after the COVID pandemic is behind us. I think it really has the capacity to allow us to reach patients in a much broader sense, and can expand our ability for outreach.
Filed Under: Faculty Interviews, Interviews, Junior Faculty Interviews