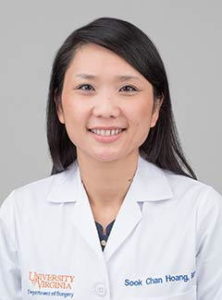 Sook Chan Hoang, MD, Assistant Professor, Department of Surgery at UVA School of Medicine
This post is part of a series of interviews with new and junior faculty with special insights into their work as physicians during the COVID-19 pandemic.
Stay tuned for more interviews with your colleagues.
Q: What have you learned about your work as a physician in light of the COVID-19 pandemic?
A: The COVID-19 pandemic has resulted in quite a bit of change to my day to day as a surgeon. I am having to postpone patients who require non-urgent surgeries and find ways to communicate with my patients who need my care. I am touched and humbled by many of my patients' willingness and understanding to postpone their care in efforts to preserve our resources and keep the hospital and community safe.
Q: How long have you been at UVA and where were you before you came to UVA?
A: This is my third year at UVA. Prior to UVA, I was in training in Massachusetts and RI.
Q: Is there something that you've accomplished in your career or in relation to the COVID-19 pandemic that you're particularly proud of or glad you were able to experience?
A: I've been impressed with the way my co-workers, fellow physicians, clinical support staff, administrators and residents have quickly and seemingly effortlessly changed the way we perform our daily duties to keep our patients safe and cared for. It really does provide a bit of hope during these dark times that we can and will beat this together and makes me extremely proud to be a part of our UVA family. I am glad to be able to experience our ability to work together as a community and an institution.
Filed Under: Faculty Interviews, Interviews, Junior Faculty Interviews