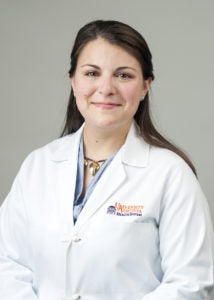 Brittany Behar, MD, Assistant Professor, Department of Plastic Surgery at UVA School of Medicine
This post is part of a series of interviews with new and junior faculty including special insights into their work as physicians during the COVID-19 pandemic.
Stay tuned for more interviews with your colleagues!
Q: What have you learned about your work as a physician in light of the COVID-19 pandemic?
A: The COVID-19 pandemic has taught me to be resourceful. We have introduced telemedicine as an option for follow up patients which has been helpful for some but it is still difficult to evaluate surgical patients without a clinic visit. But I have learned that my patients are really resilient and kind. Despite how difficult it can be to take care of these problems remotely, they have all been so understanding and truly worried about the well-being of the staff here at UVA. I'm lucky to have such great patients!
Q: How long have you been at UVA and where were you before you came to UVA?
A: I have been here at UVA since September of 2019. I came here from Philadelphia where I completed my fellowship at the University of Pennsylvania and from Hershey PA before that where I did my plastic surgery residency.
Q: Is there something that you've accomplished in your career or in relation to the COVID-19 pandemic that you're particularly proud of or glad you were able to experience?
A: The COVID-19 pandemic has solidified in my mind the strength of the UVA Hand Surgery team. We are comprised of schedulers, managers, therapists, nurses, doctors and medical assistants. Every member of the team has worked together and supported each other through this tough time and supported our patients. I am impressed everyday with the strength of this group and grateful to be a part of it.
Filed Under: Faculty Interviews, Interviews, Junior Faculty Interviews