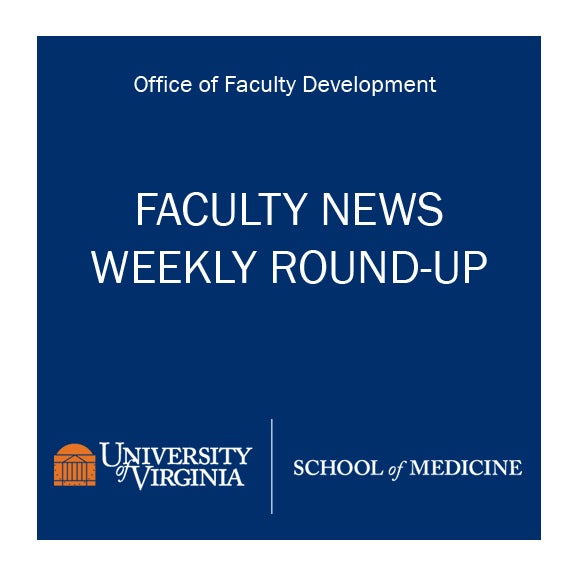 UVA SOM Faculty News Weekly Round-Up
June 14, 2019
• iTHRIV Awards Pilot Funding, Supports Statewide Research Collaborations
The Integrated Translational Health Research Institute of Virginia has awarded funding to four multi-institutional research projects through the Pilot Translational and Clinical Studies Program. By providing seed grant funding to support early phase research projects, the program is intended to accelerate joint discovery and the application of translational medical research.
Three of the projects are co-led by UVA School of Medicine faculty, including:
• Clint Miller, PhD, Assistant Professor of Public Health Sciences
• Sean Moore, MD, MS Associate Professor of Pediatrics
• Craig Meyer, PhD, Professor of Biomedical Engineering
Congratulations to them all!
Read more: https://newsroom.uvahealth.com/…/ithriv-awards-pilot-fundi…/
• UVA Symposium Highlights Discoveries in Children's Health
University of Virginia Children's Hospital recently held an annual symposium to highlight discoveries made by UVA researchers over the past year and to give researchers a chance to discuss new opportunities for important research in the coming year.
Jim Nataro, MD, PhD, MBA, Chair of UVA Pediatrics, stated, "[The symposium] provides an opportunity for investigators to come together, see each others' work, share ideas, and it's that sharing of the ideas that really fertilizes high-quality research.
Read more: https://www.nbc29.com/…/uva-symposium-highlights-discoverie…
• Unhealthy Gut Promotes Spread of Breast Cancer, Study Finds
An unhealthy, inflamed gut causes breast cancer to become much more invasive and spread more quickly to other parts of the body, new research from the UVA Cancer Center suggests.
Melanie Rutkowski, PhD, of UVA's Department of Microbiology, Immunology and Cancer Biology, found that disrupting the microbiome of mice caused hormone receptor-positive breast cancer to become more aggressive. Altering the microbiome, the collection of microorganisms that live in the gut and elsewhere, had dramatic effects in the body, priming the cancer to spread.
"When we disrupted the microbiome's equilibrium in mice by chronically treating them antibiotics, it resulted in inflammation systemically and within the mammary tissue," she said. "In this inflamed environment, tumor cells were much more able to disseminate from the tissue into the blood and to the lungs, which is a major site for hormone receptor-positive breast cancer to metastasize."
Read more: https://shar.es/a0jHyt?
• UVA House Call: Dr. Chris Holstege on Tick Bites, Diseases
Just in time for summer, Chris Holstege, MD, Professor of Emergency Medicine and Pediatrics, talked about diseases caused by ticks and how to avoid ticks becoming embedded.
Watch the interview: https://www.nbc29.com/UVA-House-Call
—
Did we miss something? If you have UVA SOM faculty news to share, please email christa@virginia.edu.
Filed Under: Faculty News Weekly Round-Up, News