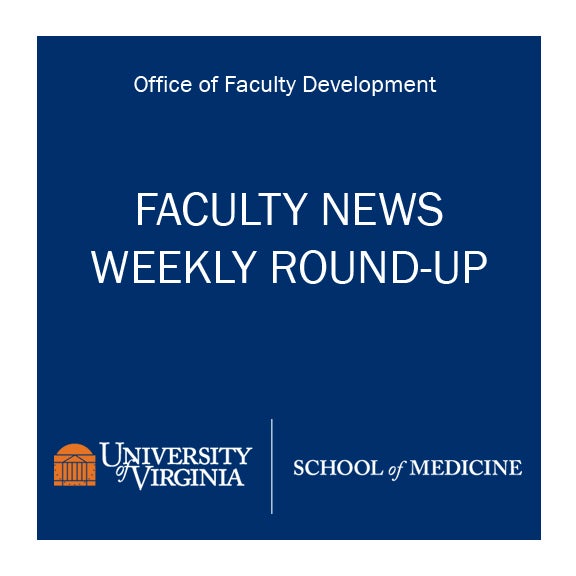 UVA SOM Faculty News Weekly Round-Up
• Testosterone Discovery May Explain Low Levels in Men with Diabetes
Scientists have mapped out how the body transports testosterone, and their surprising findings may explain low testosterone levels seen in men with diabetes or patients on certain medications.
The discovery lets scientists understand exactly how testosterone, the male sex hormone, binds to a protein called serum albumin and can be carried through the body.
The finding suggests that many drugs bind to serum albumin in the same way as testosterone, potentially explaining why the drugs interfere with normal testosterone transport. Further, the researchers report a similar overlap may explain why low testosterone is common in men with type 2 diabetes.
"This represents a key finding from one of many albumin-related projects investigated in our laboratory. We study human and equine serum albumins but are interested in bovine, rat, mouse and rabbit serum albumins as well. These projects have been active for more than a decade in the lab," said principal investigator Wladek Minor, PhD, of the School of Medicine. "But we cannot stop our research here. We must address the next big challenge, which is the determination of albumin structures in complex with commonly used and abused opioids. We believe that the determination of these structures may be crucial in the development of new methods and treatments as our country combats the opioid crisis."
The researchers have published their findings in the journal Chemical Science. The article was featured as the journal's outside back cover story for the Feb. 14 issue. The research team consisted of Mateusz Czub, Barat Venkataramany, Karolina A. Majorek, Katarzyna B. Handing, Przemyslaw J. Porebski, Sandya R. Beeram, Kyungah Suh, Ashley G. Woolfork, Hage, Ivan G. Shabalin and Minor.
Read more: https://newsroom.uvahealth.com/2019/03/27/testosterone-discovery-may-explain-low-levels-in-men-with-diabetes/
• UVA Honored on National List of Great Neurosurgery, Spine Programs
Becker's Hospital Review has named the University of Virginia Medical Center as one of 100 hospitals and health care systems with great neurosurgery and spine programs, marking the fifth consecutive year it has earned this honor.
Becker's highlighted UVA's efforts over the past two decades to provide innovative spine and neurosurgery care, citing UVA's work with Gamma Knife radiosurgery and focused ultrasound.
"Our clinicians and researchers are constantly seeking new and better ways to care for our patients, and I am proud to see those efforts recognized by Becker's Hospital Review," said Dr. Mark Shaffrey, chair of UVA's Department of Neurosurgery.
Read more: https://news.virginia.edu/content/accolades-uva-honored-national-list-great-neurosurgery-spine-programs
– Alan Matsumoto, MD, was honored with a SIR Gold Medal at the 2019 Society of Interventional Radiology Annual Meeting in Austin. Dr. Matsumoto also gave the Dotter Lecture at the conference, where he said, "Doing what's best for our patients should always be our true north and guiding compass."
– Silvia Blemker, PhD, has been inducted as a Fellow of the American Institute for Medical and Biological Engineering
Did we miss something? If you have UVA SOM faculty news to share, please email christa@virginia.edu.
Filed Under: Uncategorized