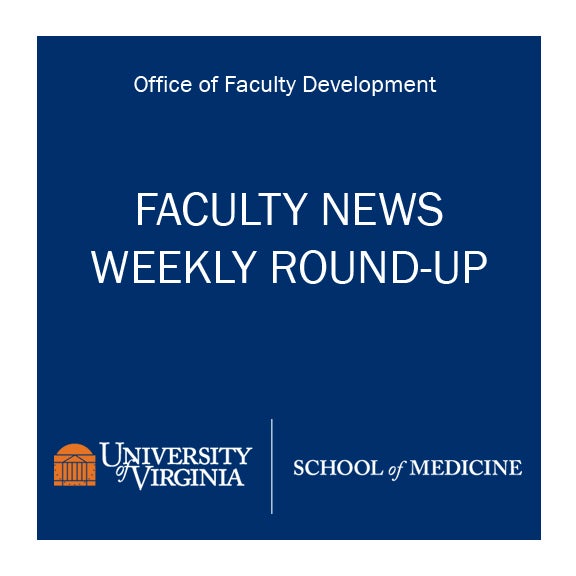 UVA SOM Faculty News Weekly Round-Up
March 22, 2019
• New UVA Lecture Series Celebrates the Successes of Interdisciplinary Research
In recent years, the University of Virginia has established four multidisciplinary institutes designed to tackle some of society's most pressing challenges from multiple angles: the Data Science Institute, the Brain Institute, the Global Infectious Diseases Institute and the Environmental Resilience Institute. Each focuses in detail and broadly on target areas of study, but they also collaborate – sharing ideas, members and resources where interest areas overlap.
Now, in partnership with UVA's Office of the Vice President for Research and the Office of the Executive Vice President and Provost, the four institutes are kicking off a Building Bridges Lecture Series for the University community.
The inaugural seminar, "Advancing the Practice of Transdisciplinary Research: Disasters, Bio-Threats, and Social Behavior," will be held Monday from 4 to 5 p.m. in the Rotunda's Dome Room.
Read more about the seminar series: https://news.virginia.edu/…/new-lecture-series-celebrates-s…
• UVA Clinical Psychologists Selected for Leadership Roles, Participate in Patient Advocacy
Scott Sperling, PsyD, and Heather Bruschwein, PsyD, represented UVA last week at the American Psychological Association's Practice Leadership Conference in Washington, D.C. Scott attended as a Practice Representative. The Committee on Early Career Psychologists selected Scott from a pool of national applicants for the position. Likewise, Heather was selected from a competitive applicant pool to attend the conference as an APA Early Career Psychologist Delegate and representative of the state of Virginia.
Scott serves as Assistant Professor of Neurology and Heather as Assistant Professor of Psychiatry and Neurobehavioral Sciences at UVA School of Medicine. Scott is a graduate of the Junior Faculty Development Program, and Heather is a current participant.
Read more: https://www.facebook.com/UVaSOMFacDev/posts/2678722288821678?__tn__=K-R
—
Did we miss something? If you have UVA SOM faculty news to share, please email christa@virginia.edu.
Filed Under: Faculty News Weekly Round-Up, News