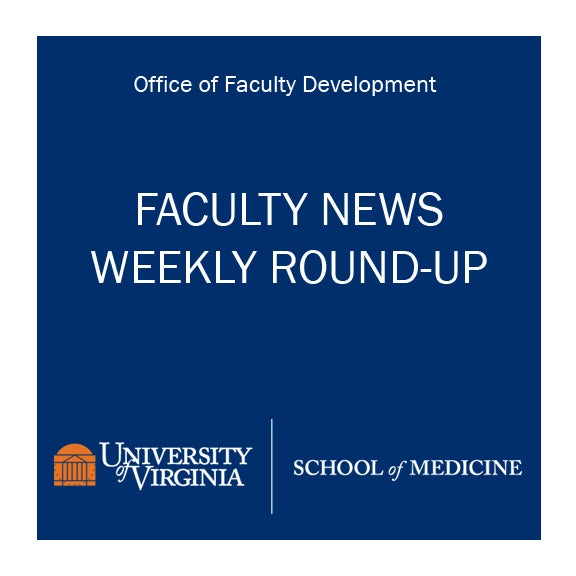 UVA SOM Faculty News Weekly Round-Up
• Found: The Missing Ingredient to Grow Blood Vessels
Researchers at the School of Medicine have discovered an ingredient vital for proper blood vessel formation that explains why numerous promising treatments have failed. The discovery offers important direction for efforts to better treat a host of serious conditions ranging from diabetes to heart attacks and strokes.
Until now, scientists seeking to grow blood vessels have focused almost exclusively on growing only the inner layer of blood vessels, which are made up of endothelial cells. The hope was that these endothelial cells would then recruit any other cell types needed to form a complete, functional blood vessel. But researchers led by Gary K. Owens, PhD, director of UVA's Robert M. Berne Cardiovascular Research Center, have determined that those vessels can develop properly only if they're grown in conjunction with another cell type, known as perivascular cells, including smooth muscle cells and pericytes. The researchers liken these perivascular cells to the outer support layers of a rubber hose or on automobile tires, without which they burst or leak.
"Most of the studies of angiogenesis [blood vessel formation] have focused on the inner lining of the pipes themselves," researcher Daniel L. Hess said. "That's fairly well understood. But it's really not well understood how you get a complete functional blood vessel that can withstand the mechanical force exerted by blood pressure."
The researchers have published their findings in the scientific journal. Nature Communications. The research team consisted of Hess, Molly R. Kelly-Goss, Olga A. Cherepanova, Anh T. Nguyen, Richard A. Baylis, Svyatoslav Tkachenko, Brian Annex, Shayn M. Peirce and Gary K. Owens.
Read more: https://newsroom.uvahealth.com/2019/03/12/found-the-missing-ingredient-to-grow-blood-vessels/
• US News' Latest Rankings Place 5 UVA Grad Schools in Nation's Top 25
In the recently released 2020 edition of the U.S. News and World Report "Best Graduate School" rankings, UVA School of Medicine tied for 26th nationally in primary care and tied for 27th in research. Among disciplines, the internal medicine program ranked No. 27 and the public health program tied for No. 62.
Read more: http://news.virginia.edu/content/us-news-latest-rankings-place-5-uva-grad-schools-nations-top-25
• UVA Discovers New Contributor to Age-Related Hearing Loss
Researchers at UVA School of Medicine have discovered a new potential contributor to age-related hearing loss, a finding that could eventually help doctors identify people at risk.
The auditory receptors of the inner ear, called hair cells, pick up sounds using a vibration-sensing antenna called the hair bundle. While much research into hearing loss has focused on the hair bundle, UVA's discovery spotlights the foundations those antennas stand on.
The finding suggests that genetic predisposition can cause this "cuticular plate," as the foundation is known, to weaken over time. "We find that it [the cuticular plate] is important for the ability of the hair cells to detect sound, but also for the overall vibrations that happen in the cochlea," UVA researcher Jung-Bum Shin said. "Defects in this cuticular plate appear to lead to progressive hearing loss."
Shin and his colleagues have published their findings in the scientific journal Nature Communications. In addition to Shin, the research team consisted of Ting-Ting Du, James B. Dewey, Elizabeth L. Wagner, Runjia Cui, Jinho Heo, Jeong-Jin Park, Shimon P. Francis, Edward Perez-Reyes, Stacey Guillot, Nicholas E. Sherman, Wenhao Xu, John S Oghalai, and Bechara Kachar.
Read more: https://news.virginia.edu/content/uva-discovers-new-contributor-age-related-hearing-loss
Did we miss something? If you have UVA SOM faculty news to share, please email christa@virginia.edu.
Filed Under: Faculty News Weekly Round-Up