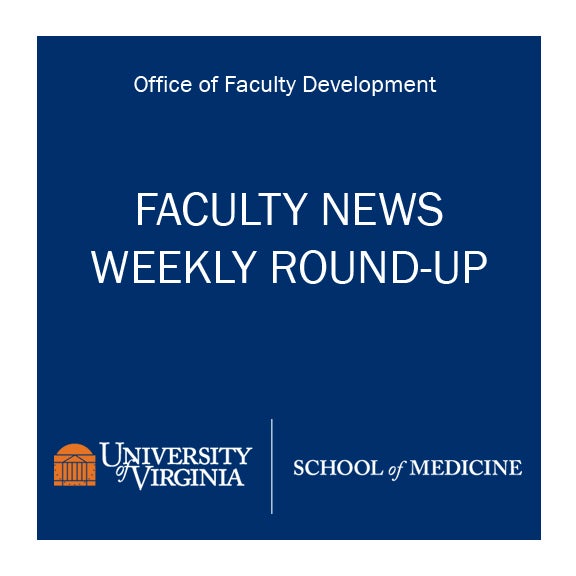 UVA SOM Faculty News Weekly Round-Up
March 8, 2019
• NIH Provides $23 Million for Statewide Translational Research Institute
The integrated Translational Health Research Institute of Virginia (iTHRIV) has been awarded a five-year grant of nearly $23 million from the National Institutes of Health (NIH) to advance innovative ideas from the point of discovery to implementation in clinical practice and population health.
iTHRIV includes the University of Virginia, Inova Health System, Virginia Tech and Carilion Clinic as partners, with the Center for Open Science and UVA's Licensing & Ventures Group as affiliates. The focus of iTHRIV is "using data to improve health" and leverages the data science expertise across the state.
Read more: https://newsroom.uvahealth.com/…/nih-provides-23-million-f…/
• UVA Pediatrician on Reemergence of Vaccine-Preventable Diseases
Ina Stephens, MD, Associate Professor of Pediatrics in the Division of Pediatric Infectious Diseases, spoke to Cville Weekly about vaccinations.
From Cville Weekly:
Dr. Stephens encourages parents to talk to her about their concerns. Then she addresses them one by one. "You want the parents to know that you're willing to work with them and you want to protect their child the same way they want to protect their child," she says.
A mother herself, she tells patients she never gives a child a vaccine that she's not willing to give her own children. "I let them know that I'm with them," she says. "I understand."
Read more: https://www.c-ville.com/not-immune-vaccine-preventable-dis…/
—
Did we miss something? If you have UVA SOM faculty news to share, please email christa@virginia.edu.
Filed Under: Faculty News Weekly Round-Up, News