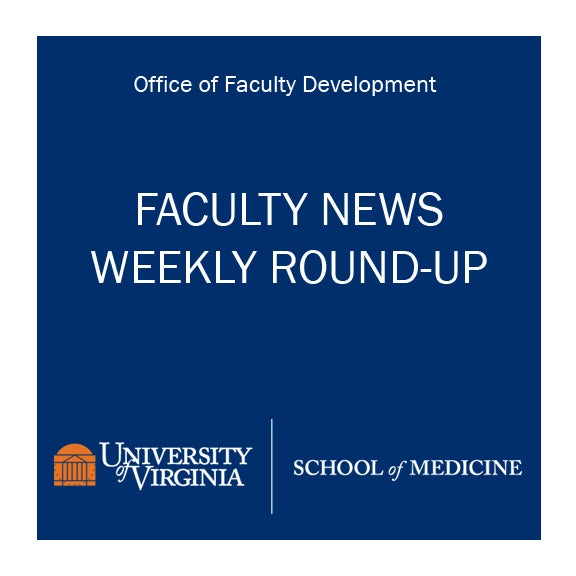 UVA SOM Faculty News Weekly Round-Up
• UVA Expanding Telehealth to Better Treat Diabetes, Heart Disease
The University of Virginia Health System is expanding its telehealth capacity to help patients across Virginia better prevent or manage chronic conditions that include diabetes, prediabetes and heart disease.
Through the UVA Center for Telehealth, UVA will expand or pilot several initiatives to battle chronic diseases, including remote monitoring for patients with diabetes, screenings for patients with diabetic eye disease, cardiac rehabilitation programs for heart failure patients and streamlined access to specialists. These programs will be supported by an initial grant of more than $750,000 from the federal Centers for Disease Control and Prevention and the Virginia Department of Health.
"Virtual care delivery models have proven to improve access, care coordination, clinical outcomes and patient engagement," said Karen S. Rheuban, MD, director of the UVA Center for Telehealth. "The digital transformation of healthcare has been affirmed by U.S. Health and Human Services Secretary Alex Azar, as Medicare now covers a broad range of virtual care models. Our collaboration with the CDC in advancing these connected care models to enhance disease prevention will impact patients across the nation."
Read more: https://newsroom.uvahealth.com/2019/02/26/uva-expanding-telehealth-diabetes-heart-disease/
• UVA Discovers Secret to Making Immune Cells Better Cancer Killers
Scientists at the School of Medicine have discovered a defect in immune cells known as "killer T cells" that explains their inability to destroy cancer tumors. The researchers believe that repairing this defect could make the cells much better cancer killers. Further, they predict their discovery could be used within three to five years to help identify patients who will best respond to cancer therapies.
The finding could be a significant boost to the burgeoning field of immunotherapy, which aims to harness the body's immune defenses to defeat cancer. The discovery could also let doctors better predict and assess how well a patient responds to treatment.
"For a long time, the presence of immune cells in cancer has been associated with a better outcome in patients, but it's not really been clear why the immune cells haven't been able to control the cancer. What is the cancer doing?" said researcher Timothy Bullock, PhD, of the UVA Cancer Center. "This [finding] gives us plenty of opportunity to come in with interventions to invigorate these T cells and level the playing field substantially so they're much more competitive."
Bullock and his team have published their findings in Science Immunology. The research team consisted of Lelisa F. Gemta, Peter J. Siska, Marin E. Nelson, Xia Gao, Xiaojing Liu, Jason W. Locasale, Hideo Yagita, Craig L. Slingluff Jr., Kyle L. Hoehn, Jeffrey C. Rathmell and Bullock.
Read more: https://newsroom.uvahealth.com/2019/02/25/uva-discovers-secret-to-making-immune-cells-better-cancer-killers/
Did we miss something? If you have UVA SOM faculty news to share, please email christa@virginia.edu.
Filed Under: Faculty News Weekly Round-Up, News