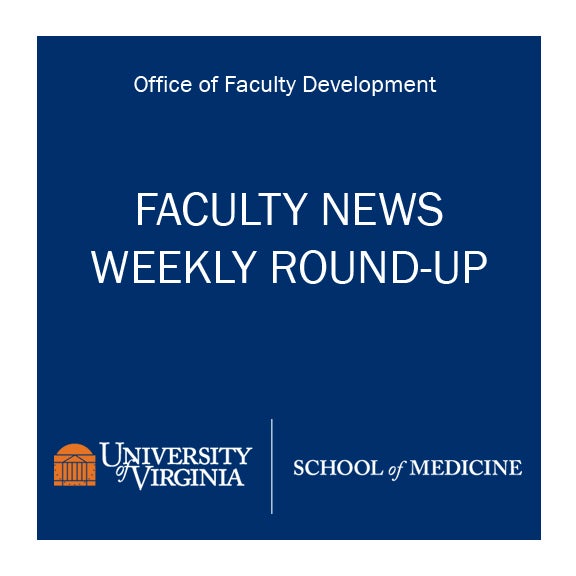 UVA SOM Faculty News Weekly Round-Up
February 22, 2019
• UVA's Brain Institute Focuses on Alzheimer's, Autism, Addition and Injury
As the baby boom generation in the United States ages, more people are experiencing cognitive decline, including Alzheimer's disease. Meanwhile, autism is more common among children and young adults. More people are addicted to pain-killing opioids. And there is increasing concern about the long-term effects of repeated mild traumatic brain injury resulting from sports, military conflict and accidents.
At the center of all of these afflictions is the brain, the most complex organ in the body. As a response to the challenges and complexities of understanding the brain, the University of Virginia three years ago established the UVA Brain Institute, focused on accelerating and improving brain research, already a strength at the University.
"Our institute is dedicated to bringing together researchers, clinicians and educators from across UVA to creatively collaborate and bring coherent new insights to brain science," said Dr. Jaideep Kapur, director of the UVA Brain Institute and a chaired professor in the School of Medicine's departments of Neurology and Neuroscience. "We have the capacity to really change the way the science is done and to become a leader in several fields by scaling up and transferring knowledge."
Read more: https://news.virginia.edu/…/uvas-brain-institute-focuses-al…
• Brain's Prefontal Cortex Conducts Symphony of Social Players
From Spectrum News:
A pilot study of cognitive behavioral therapy for anxiety in 10 autistic adolescents yielded promising results, according to lead investigator Kevin Pelphrey, professor of neurology at the University of Virginia in Charlottesville.
Adolescents with autism have poor connectivity between the prefrontal cortex and amygdala, an emotion hub in the brain, during tasks that require emotional control1. The therapy improves this connectivity and calms emotion-generating brain systems — much as a conductor might guide an orchestra into a diminuendo to quiet the music.
"It makes something that we knew was a pretty good therapy for a lot of people seem like it will be good for people with autism as well," Pelphrey says.
Read more: https://www.spectrumnews.org/…/brains-prefrontal-cortex-co…/
• New Partnership Seeks Enhanced Lung Care in Appalachia
A new program will use telehealth to bring together a University of Virginia Health System team with primary care providers in the Appalachian region of Virginia to improve lung disease prevention, diagnosis and treatment.
UVA will partner with Stone Mountain Health Services and The Health Wagon – which serve patients in Wise, Russell, Dickenson, Washington, Buchanan, Lee, Smyth, and Russell counties – with the support of a $10,000 National Science Foundation Grant.
"I'm excited to grow this program and think this has the potential to set the table for larger collaborative efforts to both prevent lung disease and better care for patients with lung disease," said UVA pulmonologist Drew Harris, MD, who also recently became medical director of the Black Lung Program at Stone Mountain Health Services.
Read more: https://newsroom.uvahealth.com/…/enhanced-lung-disease-car…/
• UVA House Call: Dr. Brandy Patterson
Dr. Brandy Patterson from UVA Heart and Vascular Center is discussed heart disease in honor of Heart Month.
Watch the interview: http://www.nbc29.com/…/uva-house-call-dr-brandy-patterson-o…
—
Did we miss something? If you have UVA SOM faculty news to share, please email christa@virginia.edu.
Filed Under: Faculty News Weekly Round-Up, News