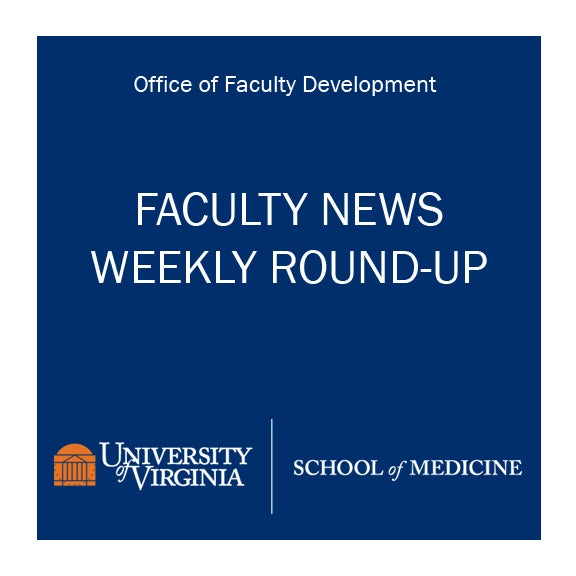 UVA SOM Faculty News Weekly Round-Up
• Keck Foundation Provides UVA Scientist $1M to Open New Portal to the Submicroscopic World
A scientist at the University of Virginia School of Medicine has received a prestigious three-year, $1 million award from the William M. Keck Foundation to develop a new and better way to map out the submicroscopic world. This information helps us understand biological processes and aids researchers in developing new drugs to battle disease, among other benefits.
Michael Wiener, PhD, a professor (and first-generation college grad) in UVA's Department of Molecular Physiology and Biological Physics, is seeking to create a simpler, more reliable method to determine the structures of molecules far too small for traditional light microscopes to see.
"Our genes provide instructions for the design and construction of approximately 20,000 different molecular machines, which are called proteins. These proteins, individually and in complex with other proteins, carry out the functions of life on a molecular level," he said. "By determining the structures of these protein machines, we can learn about how they cause biological processes and disease. Also, these structures can be used to discover and design novel and effective drugs. These structure-based approaches have been used to develop powerful and effective drugs for AIDS, flu, cancer and many other diseases. So, there are very strong fundamental, clinical and economic motivations to be able to determine these structures quickly, easily and cheaply."
Read more: http://www.nbc29.com/story/39971510/keck-foundation-provides-uva-1m-to-open-new-portal-to-the-submicroscopic-world
• Discovery May Explain a Great Mystery of Alzheimer's, Parkinson's
Scientists at UVA School of Medicine have identified a potential explanation for the mysterious death of specific brain cells seen in Alzheimer's, Parkinson's and other neurodegenerative diseases.
The new research suggests that the cells may die because of naturally occurring gene variation in brain cells that were, until recently, assumed to be genetically identical. This variation – called "somatic mosaicism" – could explain why neurons in the temporal lobe are the first to die in Alzheimer's, for example, and why dopaminergic neurons are the first to die in Parkinson's.
"This has been a big open question in neuroscience, particularly in various neurodegenerative diseases," said neuroscientist Michael McConnell, PhD, of UVA's Center for Brain Immunology and Glia (BIG). "What is this selective vulnerability? What underlies it? And so now, with our work, the hypotheses moving forward are that it could be that different regions of the brain actually have a different garden of these [variations] in young individuals and that sets up different regions for decline later in life."
The researchers have published their findings in Cell Reports. The research team consisted of William D. Chronister, Ian E. Burbulis, Margaret B. Wierman, Matthew J. Wolpert, Mark F. Haakenson, Aiden C.B. Smith, Joel E. Kleinman, Thomas M. Hyde, Daniel R. Weinberger, Stefan Bekiranov and McConnell.
Read more: https://newsroom.uvahealth.com/2019/02/14/discovery-may-explain-alzheimers-parkinsons-mystery
• Extra Shut-Eye: 2019 Innovator of the Year Aims to Cure Insomnia
Lee Ritterband, PhD, Professor of Psychiatry and Neurobehavioral Sciences, has been named the 2019 Innovator of the Year by University of Virginia Licensing & Ventures Group.
"We are thrilled to honor Lee Ritterband for his work pioneering the integration of digital solutions for patients living with a variety of issues, including insomnia, cancer, diabetes, and substance abuse, just to name a few," says Michael Straightiff, executive director of the UVA Licensing & Ventures Group. "Ritterband sits firmly at the helm of this emerging field and his efforts to make these treatments available on a mass scale through commercialization stand to significantly reduce the overall cost of behavioral health care."
The 2019 Innovator of the Year award ceremony and public lecture will take place on Thursday, February 21, at 5:00 PM in the Rotunda Dome room. Register for the event at lvg.virginia.edu.
Read more: https://news.virginia.edu/content/extra-shut-eye-2019-innovator-year-aims-cure-insomnia
Did we miss something? If you have UVA SOM faculty news to share, please email christa@virginia.edu.
Filed Under: Faculty News Weekly Round-Up, News