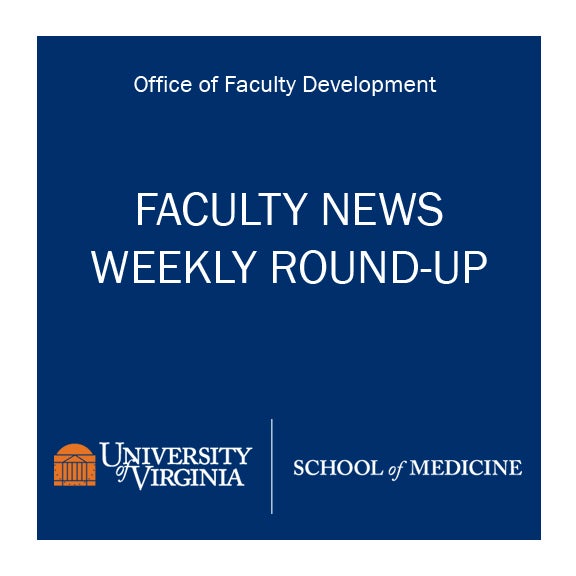 UVA SOM Faculty News Weekly Round-Up
February 8, 2019
• UVA Neurologist on Importance of Affordable Drugs for Rare Diseases
Ted Burns, MD, UVA Professor of Neurology, was interviewed as part of a recent NBC Nightly News feature on high drug prices.
Watch: https://www.nbcnews.com/…/once-free-drug-for-rare-disease-n…
• Surprise Rheumatoid Arthritis Discovery Points to New Treatment
Researchers at the School of Medicine have identified an unexpected contributor to rheumatoid arthritis that may help explain the painful flare-ups associated with the disease. The discovery points to a potential new treatment for the autoimmune disorder and may also allow the use of a simple blood test to detect people at elevated risk for developing the condition.
The promising discovery is among the first to emerge from the School of Medicine's new affiliation with Inova Health, a collaboration that aims to make medical breakthroughs and advance the battle against disease. In this case, the arthritis discovery originated in the lab of UVA's Kodi Ravichandran, PhD, and was facilitated by combining his team's resources and expertise with that of Inova researcher Thomas Conrads, PhD, through a THRIV UVA-Inova seed grant.
The researchers have published their findings in Nature Immunology. The research team consisted of Sanja Arandjelovic, Justin S.A. Perry, Christopher D. Lucas, Kristen K. Penberthy, Tae-Hyoun Kim, Ming Zhou, Dorian A. Rosen, Tzu-Ying Chuang, Alexandra M. Bettina, Laura S. Shankman, Amanda H. Cohen, Alban Gaultier, Conrads, Minsoo Kim, Michael R. Elliott and Ravichandran.
Read more: https://newsroom.uvahealth.com/…/surprise-rheumatoid-arthri…
• Scientists Seeking to Regrow Kidneys Make Promising Discovery
Scientists seeking to regrow damaged kidneys have discovered that blocked kidneys in newborns have a remarkable ability to repair themselves after the obstruction is removed. The finding offers insights into how that happens and could eventually help doctors regenerate kidneys in adults.
The new research, from the University of Virginia School of Medicine, looked at the effects of surgically removing kidney blockages in newborn mice, but the findings likely speak to the importance of speedy surgical intervention after the birth of human babies as well, said researcher Maria Luisa S. Sequeira-Lopez, MD, of UVA's Child Health Research Center.
She described a strange phenomenon seen in blocked kidneys: "When you obstruct the kidney and you keep it obstructed, its vasculature shrinks, but the other unobstructed kidney grows many more branches, like it's trying to compensate," she said. "If you release the obstruction, then the vasculature [vessels] of the previously obstructed kidney regenerates and grows dramatically initiating the regeneration of the whole kidney.
The findings of Sequeira-Lopez and her colleagues have been published in Clinical Science by Portland Press. In addition to Sequeira-Lopez, the research team included Vidya K. Nagalakshmi, Minghong Li, Soham Shah, Joseph C. Gigliotti, Alexander L. Klibanov, Frederick H. Epstein, Robert L. Chevalier, and R. Ariel Gomez.
Read more: https://newsroom.uvahealth.com/…/advance_toward_regrowing_…/
• UVA Researchers Explore Role of Endoplasmic Reticulum Stress to Treat Inflammation and Sepsis
Alban Gaultier, PhD, Associate Professor of Neuroscience, has published new findings on the possible therapeutic use of endoplasmic reticulum. The research has been published in Science Translational Medicine. In addition to Gaultier, contributing researchers include Dorian A. Rosen, Scott M. Seki, Anthony Fernández-Castañeda, Rebecca M. Beiter, Jacob D. Eccles, and Judith A. Woodfolk.
Read more: http://stm.sciencemag.org/content/11/478/eaau5266
• NBC UVA House Call: Dr. Jamie Borque on PET Imaging
Jamie Borque, MD, MS, Associate Professor of Cardiovascular Medicine, discusses positron emission tomography (PET), a form of stress testing to evaluate blood flow to the heart.
Watch the interview: http://www.nbc29.com/…/uva-house-call-dr-jamie-borque-on-pe…
—
Did we miss something? If you have UVA SOM faculty news to share, please email christa@virginia.edu.
Filed Under: Faculty News Weekly Round-Up, News