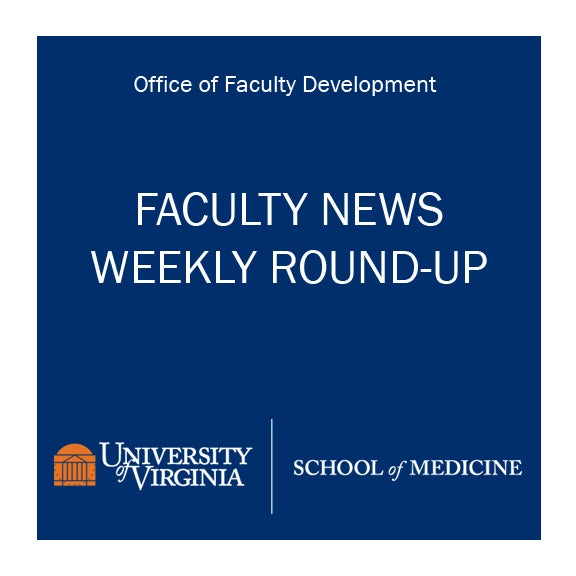 UVA SOM Faculty News Weekly Round-Up
February 1, 2019
• UVA Honored Nationally for Great Neurosurgery, Spine Care
University of Virginia Medical Center has been named among 100 hospitals and healthcare systems with great neurosurgery and spine programs by Becker's Hospital Review. This is the fifth consecutive year UVA has earned this honor.
"Our clinicians and researchers are constantly seeking new and better ways to care for our patients, and I am proud to see those efforts recognized by Becker's Hospital Review," said Mark Shaffrey, MD, chair of UVA's Department of Neurosurgery.
Read more: https://newsroom.uvahealth.com/…/uva-great-neurosurgery-spi…
• UVA Expands Diabetes Technology Clinic in Charlottesville
University of Virginia Health System has opened an expanded outpatient clinic to help patients with type 1 diabetes and insulin-dependent patients with type 2 diabetes more easily obtain appropriate technology to effectively manage their condition. It is among just a handful of similar clinics in the U.S. and builds off UVAs groundbreaking research that seeks to better manage this chronic disease.
The Advanced Diabetes Management Clinic is now open at 183 Spotnap Road in Charlottesville, staffed by a team of five endocrinologists, a nurse practitioner and a certified diabetes educator along with support staff. The clinic is open Mondays, Tuesday mornings and Thursday afternoons, with additional days set aside for classes to educate patients on how to effectively use these diabetes-management devices.
"We'll fit you with the right technology and work with your insurer to get all necessary devices or supplies approved expeditiously," said Ananda Basu, MD, a UVA endocrinologist and the clinic's director.
Read more: https://newsroom.uvahealth.com/…/uva-expands-diabetes-tech…/
• NBC UVA House Call: Dr. Alexandra Kadl on Pulmonary Embolisms
Alexandra Kadl, MD, Assistant Professor of Medicine (Pulmonary and Critical Care Medicine), discussed pulmonary embolisms.
Watch the interview: http://www.nbc29.com/category/126978/uva-house-call
—
Did we miss something? If you have UVA SOM faculty news to share, please email christa@virginia.edu.
Filed Under: Faculty News Weekly Round-Up, News