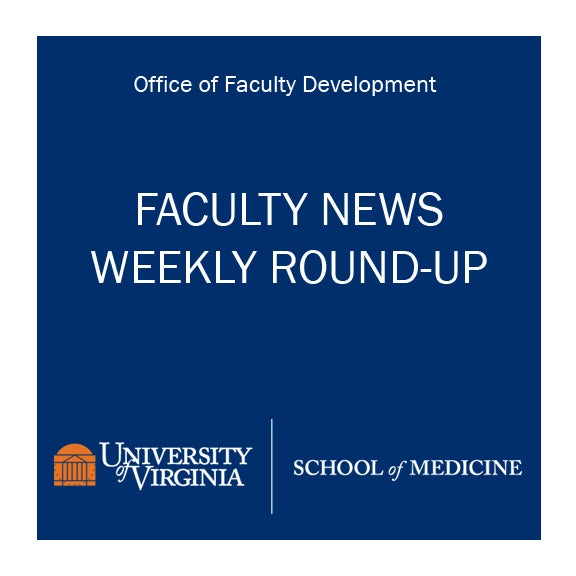 UVA SOM Faculty News Weekly Round-Up
• Here's How UVA Already Uses Data Science to Take Societal Problems
Bangladesh, Zambia and Pakistan all possess pockets of extreme poverty where sanitation, potable water and abundant food are scarce. And in each of those countries there are high rates of children suffering from environmental enteric dysfunction, a disease which limits the gut's ability to absorb essential nutrients and impacts children's mental and physical growth.
For Dr. Sana Syed, an assistant professor of pediatrics in the School of Medicine, this is why she got into medicine. "You're talking about a disease that affects hundreds of thousands of children, and that is entirely preventable," she said.
Funded by a grant from the Translational Health Research Institute of Virginia, Syed is working with Dr. Don Brown, founding director of the UVA Data Science Institute, to incorporate machine learning into the diagnostic process for health officials combating this disease. Syed and Brown are using a deep learning approach, called "convolutional neural networks," to train computers to read thousands of images of biopsies. Pathologists can then learn from the algorithms how to more effectively screen patients based on where the neural network is looking for differences and where it is focusing its analysis to get results.
Read more: https://news.virginia.edu/content/heres-how-uva-already-uses-data-science-tackle-big-societal-problems
• NIH Salutes Brain Discovery in List of 2018's Most Promising Medical Advances
A UVA School of Medicine discovery about the role of the brain's cleaning system in aging and Alzheimer's disease has been recognized by the National Institutes of Health as one of 2018's most promising medical advances.
The finding, published in the prestigious journal Nature, suggests that impairments in the lymphatic vessels that carry waste from the brain could be major contributors both to Alzheimer's and the cognitive decline that comes with age. The NIH included the discovery in its 2018 research highlights in the category of "findings with potential for enhancing human health."
The discovery was made by a team led by Jonathan Kipnis, PhD, chairman of UVA's Department of Neuroscience and chairman of the Center for Brain Immunology and Glia (BIG).
Read more: https://newsroom.uvahealth.com/2019/01/21/nih-salutes-uva-brain-discovery
• NBC UVA House Call: Dr. Kristen Heinan on Concussions
Kristen Heinan, MD, Assistant Professor of Neurology, discussed how winter activities can cause falls and concussions, concussion symptoms to watch for, how to prevent concussions, and when to see a doctor about concussion symptoms.
Read more: http://www.nbc29.com/clip/14744752/uva-house-call-dr-kristen-heinan-on-concussions
Did we miss something? If you have UVA SOM faculty news to share, please email christa@virginia.edu.
Filed Under: Faculty News Weekly Round-Up, News