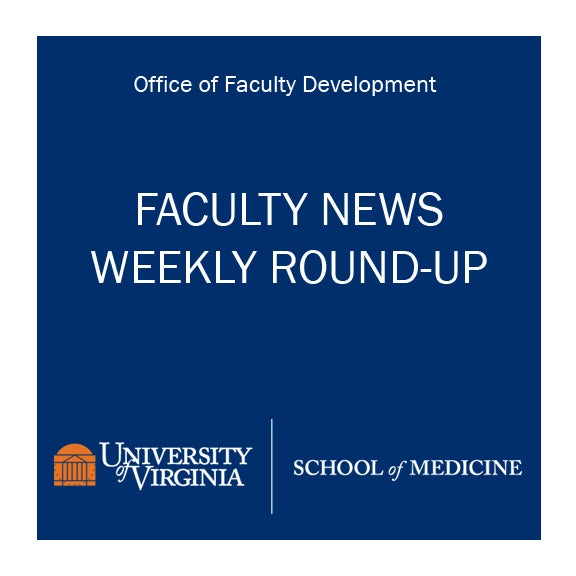 UVA SOM Faculty News Weekly Round-Up
• Clinical and Demographic Correlates of Apathy in Parkinson's Disease
Analysis led by UVA researchers Matthew Barrett and Scott Sperling identify clinical and demographic correlates of apathy in Parkinson's disease.
Read their paper, published in the Journal of Neurology: https://tinyurl.com/y9wjp6zk
• Collaboration Takes Discovery from Lab to Patients – and May Save Limbs
What started as an incidental discovery in a chemistry lab has turned into a project to help drug makers and doctors better heal the common and often intractable foot wounds of diabetes patients, potentially reducing the cost of medical care and the need for life-threatening amputations.
Read more: https://news.virginia.edu/content/collaboration-takes-discovery-lab-patients-and-may-save-limbs
• Small 'Innovation Grants' Aim for Big Impact on Global Health
From assessing the effectiveness of community-based interventions in improving health outcomes in Bangladesh, to a better way of diagnosing childhood tuberculosis, to calculating the cost of potentially unnecessary testing for gut infections, the University of Virginia's Global Infectious Diseases Institute is providing new funding to seven UVA researchers from across disciplines in the School of Medicine, the School of Engineering and Applied Science, the College and Graduate School of Arts & Sciences and the McIntire School of Commerce.
The $5,000 Innovation Grants, or iGrants, are designed to help the recipients – four graduate students, one postdoctoral fellow and two faculty physicians – continue studies that could result in positive health outcomes for society at large. The projects are transdisciplinary and extend the institute's national and international reach in infectious disease research.
Read more: https://news.virginia.edu/content/small-innovation-grants-aim-big-impact-global-health
• National '100 Great Orthopedics Programs' List Features UVA
For the fifth consecutive year, Becker's Hospital Review has named University of Virginia Orthopedics at UVA Medical Center to its list of 100 hospitals and health system with great orthopedics programs.
Becker's highlighted the role of UVA's sports medicine team in caring for UVA student-athletes, as well as the more than 1,000 joint replacement surgeries – many done using minimally invasive techniques – and 1,500 spine surgeries performed each year at UVA. The publication also highlighted health insurer Blue Cross Blue Shield designating UVA as a Blue Distinction Center for its expertise in knee and hip replacements.
Read more: https://newsroom.uvahealth.com/2019/01/02/national-100-great-orthopedics-programs-list-features-uva
• HPV Discovery Opens Door to New Cancer Treatments
We know a good bit about how HPV (human papillomavirus) causes cancer, down to a particular protein it makes to stop healthy cells' natural ability to prevent tumors. Scientists have tried for years to find a way to block that protein, but with little luck. A new discovery from our Anindya Dutta, PhD, gives them a promising new target for developing treatments for the HPV cancers.
Dr. Dutta, chair of our Department of Biochemistry and Molecular Genetics, and his colleagues have identified another substance that is essential for the sexually-transmitted virus to cause cancer. Its an enzyme, called USP46, that he says is "eminently druggable."
Read more: https://makingofmedicine.virginia.edu/2018/12/12/hpv-discovery-opens-door-to-new-cancer-treatments
• Distinguished Dozen: Leading with His Heart on Community Health
Larry Gimple, MD, Professor of Medicine in the Division of Cardiovascular Medicine, has been recognized by the Daily Progress as a Distinguished Dozen. In addition to serving as an interventional cardiologist at UVA, Gimple has helped thousands of local youth learn to swim.
Read more: https://www.dailyprogress.com/news/dozen/distinguished-dozen-leading-with-his-heart-on-community-health/article_8250c2f8-0bad-11e9-86ab-331ae74136b4.html
• FDA Approves Ultrasound for Parkinson's Tremor
This just in: The federal Food and Drug Administration has approved the use of focused ultrasound for tremor associated with Parkinson's disease. This follows clinical trials led by our Jeff Elias, MD. A neurosurgeon, Dr. Elias previously led the international trial that prompted the FDA to approve focused ultrasound for essential tremor, the most common movement disorder.
The new approval means doctors can begin to offer focused ultrasound to treat tremor in Parkinson's patients. Until now, the scalpel-free surgery has only been available for Parkinson's tremor through clinical trials.
"This is another validation of a great technology," Dr. Elias said. "Patients are attracted to the less invasive aspects of focused ultrasound. Now Parkinson's patients for whom tremor is their primary disability have more treatment options than conventional cranial surgery."
Read more: https://makingofmedicine.virginia.edu/2018/12/19/fda-approves-focused-ultrasound-for-parkinsons-tremor
• Pediatric Heart Transplants at UVA Give Hope to Over a Dozen Families in 2018
The UVA Pediatrics Department performed 13 pediatric heart transplants in 2018 – higher than the average nine transplants it usually performs every year.
Read more: http://www.nbc29.com/story/39694404/heart-transplants-at-uva-give-hope-to-over-a-dozen-families-in-2018
• New Gene Targets Discovered for Treatment of Inflammatory Disease
A group of genes that has been largely ignored by scientists could play critical roles in atherosclerosis (hardening of the arteries), inflammation, and likely obesity and other metabolic diseases, new research suggests.
The discovery was made by UVA researchers in the context of how our bodies recognize and remove dying cells.
We came across the genes, called SLCs, kind of by accident," said researcher Kodi Ravichandran, PhD, who chairs the Department of Microbiology, Immunology and Cancer Biology. "Initially, just like everybody else, we were not paying much attention to the SLCs. But they kept coming up repeatedly in our gene expression analyses, and we realized this must be relevant. Then we took a serious dive into their biology, and we had a lot of fun surprises."
Physicians could target these SLC genes with drugs to battle inflammation in tissues such as seen in atherosclerosis, rheumatoid arthritis and colitis, and even to benefit patients undergoing chemotherapy for cancer, the researchers say.
Their findings have been published in Nature. The research team consisted of Sho Morioka, Justin Perry, Michael H. Raymond, Christopher B. Medina, Yunlu Zhu, Liyang Zhao, Vlad Serbulea, Suna Onengut-Gumuscu, Norbert Leitinger, Sarah Kucenas, Jeffrey C. Rathmell, Makowski and Ravichandran.
Read more: https://news.med.virginia.edu/blog/imflam/
• Office of Faculty Development Receives BeSmart Process Excellence Award as the Administrative Unit of the Month
It is our honor to serve faculty in your professional development, and we appreciate the award!
• Why are so many people getting a meat allergy?
Alpha-gal allergy was first reported by Thomas Platts-Mills, MD, PhD, the head of UVAs Division of Allergy and Clinical Immunology, and his colleague Scott Commins, MD, PhD, in 2009. Since then, there have been increasing numbers of cases of the meat allergy reported across the U.S., especially as the ticks' territory grows.
Read more: https://mosaicscience.com/story/mammalian-meat-allergy-alpha-gal-allergic-lone-star-tick-bite/
Did we miss something? If you have UVA SOM faculty news to share, please email christa@virginia.edu.
Filed Under: Faculty News Weekly Round-Up, News