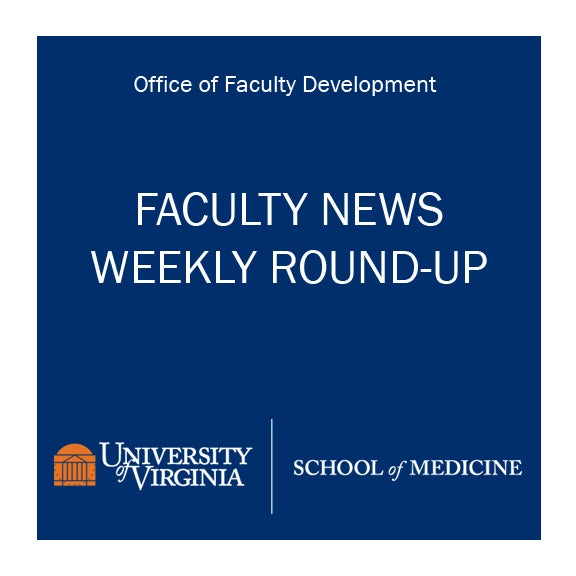 UVA SOM Faculty News Weekly Round-Up
• From UVA Researchers: The MtrCDE Efflux Pump Contributes to Survival of Neisseria gonorrhoeae From Human Neutrophils and Their Antimicrobial Components
Gonorrhea is a major public health threat due to its prevalence and its antibiotic resistance, leading to it being dubbed a potentially untreatable "superbug." One bacterial component that enhances antibiotic resistance is the MtrCDE efflux pump, which expels antibiotics from the bacterial cell. Research from the laboratory of Alison Criss, PhD, Associate Professor of Microbiology, shows that this efflux pump also helps the gonorrhea bacteria resist killing by neutrophils of the immune system. Neutrophils make a variety of antimicrobial peptides and proteins, and we find that the MtrCDE system protects against a subset of them. Since neutrophils are abundant in gonorrheal disease, vaccines or drugs that target MtrCDE may sensitize the bacteria to killing by neutrophils as well as conventional antibiotics, a novel therapeutic strategy that is urgently needed to combat superbug gonorrhea.
The researchers' findings have been published in Frontiers in Microbiology.
Read more: https://www.frontiersin.org/articles/10.3389/fmicb.2018.02688/full
• Papin Lab wins $1.6 Million NIH RO1 Award
Jason Papin, PhD, Professor of Biomedical Engineering, will receive $1,612,256 over four years as part of an NIH RO1 Award. The award is granted for Papin's proposal "capitaliz[ing] on a unique team of investigators with complementary expertise to delineate and exploit the mechanistic relationships between diet, the microbiota, and inflammatory bowel disease and thus establish a framework for mapping diet-microbiota-host interactions for many biological signatures of interest."
Read more: https://engineering.virginia.edu/news/2018/12/towards-personalized-medicine-inflammatory-bowel-disease
• In Chile, a Special Honor for UVA Researcher James P. Nataro
In November, James P. Nataro, MD, PhD, MBA, Benjamin Armistead Shepherd Professor and Chair, Department of Pediatrics, was honored in Chile for his work battling infectious diseases in Latin America. ALAM 2018, the 24th Latin American Congress of Microbiogy, held a special symposium in his honor. It's a well-deserved recognition, considering his many years of work on serious bacterial infections such as E. coli and Shigella.
Read more: https://makingofmedicine.virginia.edu/2018/11/16/in-chile-a-special-honor-for-our-james-p-nataro/
• Dr. Nicole Deal Recognized as Orthopedic Surgeon to Know
Nicole Deal, MD, Associate Professor of Orthopaedic Surgery, has been recognized as an "orthopedic surgeon to know" by Becker's Hospital Review.
Read more: https://www.beckersspine.com/orthopedic/item/43806-orthopedic-surgeon-to-know-dr-nicole-deal-of-uva-health-system.html
• UVA House Call: Dr. Rebecca Dillingham on AIDS
Rebecca Dillingham, MD, MPH, Associate Professor of Medicine, Infectious Diseases and International Health, and Director, Center for Global health, discusses AIDS, its prevention, and its treatment.
Watch the interview: http://www.nbc29.com/clip/14706410/uva-house-call-dr-rebecca-dillingham-on-aids
Did we miss something? If you have UVA SOM faculty news to share, please email christa@virginia.edu.
Filed Under: Faculty News Weekly Round-Up, News