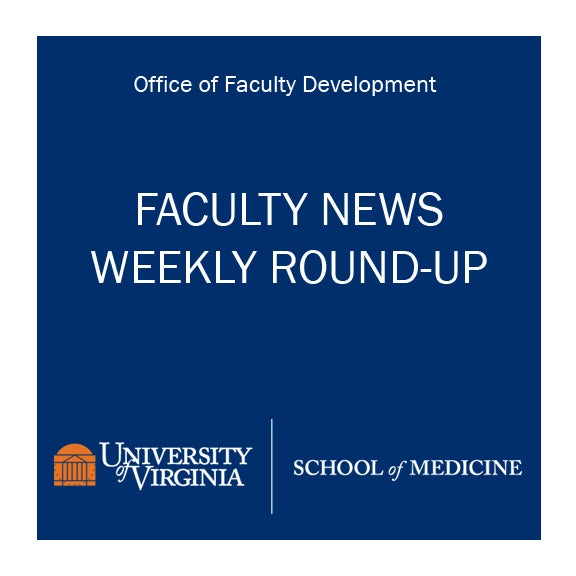 UVA SOM Faculty News Weekly Round-Up
October 19, 2018• UVA Opens Haymarket Neurosurgery Clinic with Dr. Nevan Baldwin

University of Virginia Health System has opened a new neurosurgery clinic to bring high-quality, convenient neurosurgery care to Haymarket.
UVA Neurosurgery Haymarket is led by neurosurgeon Nevan Baldwin, MD, who will initially focus on treating patients with spinal conditions using the full range of treatment options, including minimally invasive surgical procedures.
"We're pleased to be adding Dr. Baldwin's expertise to our neurosurgery department, and we're excited to offer patients in Northern Virginia easier access to our neurosurgery team," said Mark Shaffrey, MD, chairman of UVA's Department of Neurosurgery. "Our hope is the Haymarket clinic will be convenient for patients wanting to receive the quality care provided by UVA, but not able to take the time to travel to Charlottesville."
As Baldwin cares for patients in Haymarket, his goal is to create "a maximum patient experience."
"When patients leave the office, I want them to feel that their entire experience was as good as it could possibly have been," he said. "This means that they were treated promptly and with respect at the reception desk, that they were seen quickly, that they received a thorough, attentive exam and that they left with a clear explanation of their condition and a good understanding of the next steps."
Read more: https://newsroom.uvahealth.com/2018/10/17/uva-opens-haymarket-neurosurgery-clinic
• Much-Needed New Antibiotic Shows Great Promise for Treating Gum Disease
A new antibiotic being developed at the UVA School of Medicine appears ideal for battling periodontal disease, the leading cause of tooth loss in adults, according to dental researchers at Virginia Commonwealth University.
The drug, amixicile, was found to be effective against the harmful "Red Group" of anaerobic bacteria associated with advanced gum disease. Amixicile is already in development for treatment and prevention of antibiotic-associated colitis caused by Clostridium difficile, a dangerous bacteria that can cause life-threatening infections.
The researchers say amixicile may have another important benefit, too. Because amixicile works differently than other antibiotics, it is thought that it would be extremely difficult for bacteria to find a way to become resistant to it. That means it could be used widely without contributing to the growing problem of antibiotic resistance.
"In the fight against antibiotic resistance, it is rare to find an antibiotic that breaks the rules — opening up the possibility for treating patients for life, just like statins [drugs used to lower cholesterol]," said researcher Paul Hoffman, PhD, of UVA's Division of Infectious Diseases and International Health. "Why is this important? Medical researchers know that inflammation caused by chronic anaerobic infections like periodontal disease contributes to the onset of autoimmune disease — rheumatoid arthritis, type 2 diabetes, atherosclerosis and even Alzheimer's disease. Think about it: Like taking a daily-dose aspirin for prevention of heart disease, taking a pill a day for prevention of inflammation might just lower risks for these other diseases."
The researchers' findings have been published by the American Academy of Periodontology in their Journal of Periodontology.
Read more: https://newsroom.uvahealth.com/2018/10/18/new_antibiotic
• New Approach to Understanding Cancers Will Speed Treatments
A new innovation in cancer research will enable scientists to understand the complex causes of the disease with unprecedented speed and sophistication. This will accelerate the development of new and better treatments, and it will help researchers find ways around roadblocks that now stand in their path.
Rather than looking at individual gene mutations in isolation, the new approach allows scientists to create models incorporating many mutations. Studying the mutations' collective effect will provide a much more complete picture of cancers' causes and allow scientists to better mimic human disease when working to develop new treatments. You might think of it like trying to understand the workings of a clock: Instead of looking at a single gear, scientists can now examine the larger mechanism.
"Our work provides proof-of-concept for new models in which we can test numerous genes and mutations simultaneously, sometimes one by one, sometimes combinations of the different mutations," said researcher Kwon-Sik Park, Associate Professor of Microbiology. "Patients not only acquire different mutations, but they acquire combinations, so you have to model really faithfully to understand what is happening."
In addition to Park and researchers from other institutions, the following UVA School of Medicine researchers contributed to the study:
Dong-Wook Kim
Kee-Beom Kim
Colin T. Dunn
The researchers' findings have been published by the American Association for Cancer Research in the journal Cancer Discovery.
Read more: https://news.virginia.edu/content/new-approach-understanding-cancers-will-speed-treatments
• UVA Health System Joins Medicaid Transformation Project
University of Virginia Health System is partnering with more than 20 other health systems in the AVIA network's Medicaid Transformation Project to develop financially sustainable solutions to improving the health of the nearly 75 million Americans who receive Medicaid.
The project will focus initially on four healthcare challenges:
– Behavioral health
– Women and infant care
– Substance use disorders
– Avoidable emergency department visits
Read more: https://newsroom.uvahealth.com/2018/10/15/uva-joins-national-medicaid-transformation-project
—
Did we miss something? If you have UVA SOM faculty news to share, please email christa@virginia.edu.
Filed Under: Faculty News Weekly Round-Up, News