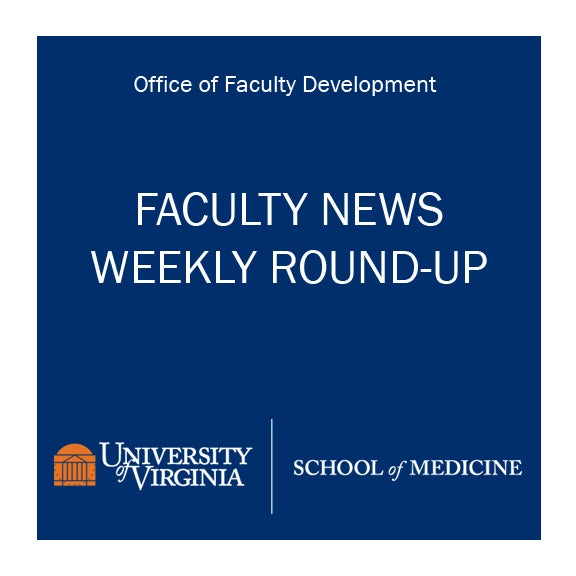 UVA SOM Faculty News Weekly Round-Up
September 28, 2018
• UVA Discovers Link Between Cold Severity and the Bacteria Living in Your Nose
In news with several layers of weird, researchers have determined that the mix of bacteria that live inside your nose – yes, there are organisms living inside your nose – correlates with the type and severity of cold symptoms you develop.
For example, people whose noses are rich in Staphylococcus bacteria had more severe nasal symptoms than cold sufferers who have less staph, new research shows. That's despite their colds being caused by the exact same strain of virus.
The researchers found that the bacteria in volunteers' noses fell into six different patterns of nasal microbiomes. The different patterns were associated with differences in severity of cold symptoms. The compositions also were found to correlate with viral load – the amount of cold virus inside the body.
The discovery surprised even the longtime cold researchers who made it.
"The first surprise was that you can kind of identify these different buckets that people kind of fit into, and then the fact that the buckets seem to have some impact on how you respond to the virus and how sick you get was also interesting," said Dr. Ronald B. Turner of the University of Virginia School of Medicine. "There were effects on virus load and how much virus you shed in your nasal secretions. So the background microbiome, the background bacterial pattern in your nose, had influences on the way that you reacted to the virus and how sick you got."
The researchers' findings have been published in Scientific Reports by Nature.
Read more: https://news.virginia.edu/…/uva-discovers-link-between-cold…
• A New Gold Standard: UVA Orthopedics Facility Aims to Be 'Best in the Country'
Earlier this month, Chair of Orthopedic Surgery Dr. Bobby Chhabra – along with Dr. Rick Shannon, UVA's executive vice president for health affairs – wielded a shovel in a groundbreaking ceremony for UVA's Ivy Mountain Musculoskeletal Center, a $160 million project on Ivy Road near the U.S. 29/U.S. 250 interchange.
Chhabra declared, "This facility will be the best for musculoskeletal and orthopedic care in the country."
Scheduled to open in February 2022, Ivy Mountain will be one of only four similar facilities of its kind on the East Coast. With 90 exam rooms, six operating rooms, surgery support and imaging services, a retail pharmacy and food service, the massive 195,000-square-foot facility will be the ultimate one-stop shop for orthopedic and musculoskeletal care.
Read more: https://news.virginia.edu/…/new-gold-standard-uva-orthopedi…
—
Did we miss something? If you have UVA SOM faculty news to share, please email christa@virginia.edu.
Filed Under: Faculty News Weekly Round-Up, News