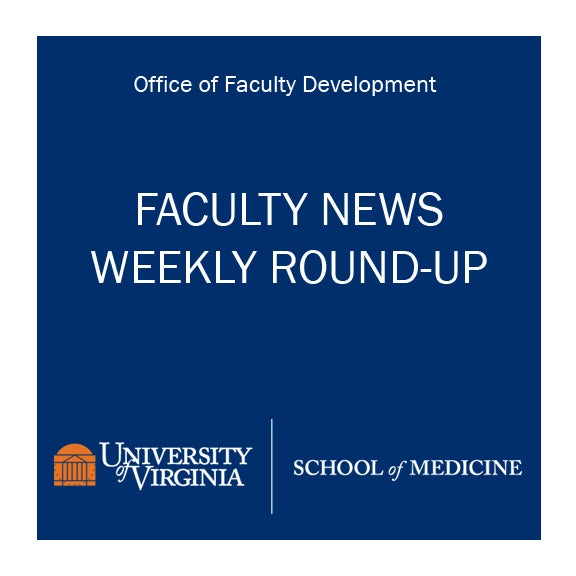 UVA SOM Faculty News Weekly Round-Up
September 21, 2018
• Inflammation Critical for Preventing Heart Attacks and Strokes, UVA Study Reveals
Inflammation, long considered a dangerous contributor to atherosclerosis, actually plays an important role in preventing heart attacks and strokes, new research from UVA School of Medicine reveals.
The work also raises an important caution about a high-profile drug, canakinumab, being tested to treat advanced atherosclerosis, which is the narrowing of arteries due to plaque buildup on the artery walls. The drug would need to be prescribed only to a select group of patients, UVA's research suggests.
The research comes from the laboratory of Gary Owens, PhD, Robert M. Beirne Professor of Cardiovascular Research. Owens stated: "What our data suggests is that you need to be extremely cautious in starting to give this drug more broadly to lower-risk patients. This is not a drug that should be prescribed broadly like statins, because we believe our data suggests that if you suppress inflammatory response without first removing or reducing the cause of the inflammation, which is lipids, necrotic tissue debris and other plaque components, that this could become dangerous and have unintended consequences. … If you give it to the wrong person, it could do the opposite of what you intended."
In addition to Owens, UVA researchers contributing to the study include the following:
Richard A. Baylis
Brittany G. Durgin
Alexandra A. C. Newman
Gabriel F. Alencar
The findings of the study have been published in Nature Medicine.
Read more: https://news.virginia.edu/…/inflammation-critical-preventin…
• UVA Identifies Brain's Lymphatic Vessels as New Avenue to Treat Multiple Sclerosis
Lymphatic vessels that clean the brain of harmful material play a crucial role in the development and progression of multiple sclerosis, new research from UVA suggests.
The vessels appear to carry previously unknown messages from the brain to the immune system that ultimately trigger the disease's symptoms. Blocking those messages may offer doctors a new way to treat a devastating condition that affects more than 2 million people.
The discovery comes from the same UVA lab that identified the lymphatic vessels surrounding the brain – vessels that textbooks long insisted did not exist. In an exciting follow-up, the researchers have determined that the vessels play an important role in not only multiple sclerosis but, most likely, many other neuroinflammatory diseases and in dangerous brain infections.
"Our data suggests that there is a signal coming from the brain to the lymph nodes that tells immune cells to get back into the brain, causing the [multiple sclerosis] pathology," said researcher Antoine Louveau, PhD, of UVA Department of Neuroscience and UVA Center for Brain Immunology and Glia – BIG. "This is an important proof of principle that exploring the role of these vessels in different neurological disorders, including multiple sclerosis, is worth it."
The findings of the research have bene published in NatureNeuroscience. In addition to Louveau, UVA researchers contributing to the study include the following:
Jasmin Herz
Maria Nordheim Alme
Andrea Francesca Salvador
Michael Q. Dong
Kenneth E. Viar
S. Grace Herod
James Knopp
Joshua C. Setliff
Alexander L. Lupi
Sandro Da Mesquita
Elizabeth L. Frost
Alban Gaultier
Tajie H. Harris
Rui Cao
Song Hu
John R. Lukens
Igor Smirnov
Christopher C. Overall
Jonathan Kipnis
Read more: https://news.virginia.edu/…/uva-identifies-brains-lymphatic…
—
Did we miss something? If you have UVA SOM faculty news to share, please email christa@virginia.edu.
Filed Under: Faculty News Weekly Round-Up, News