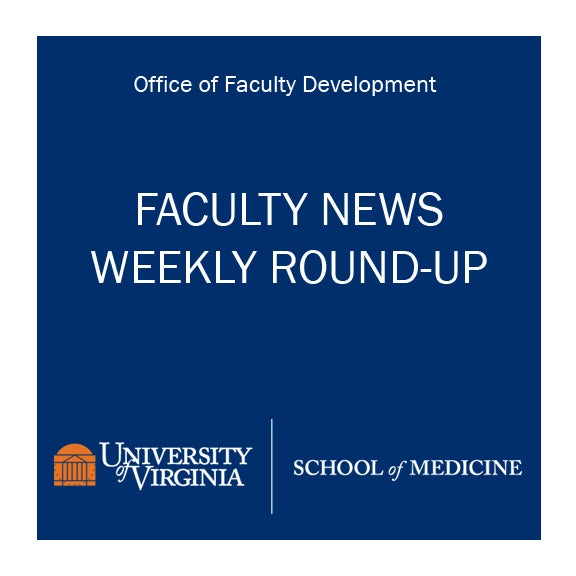 UVA SOM Faculty News Weekly Round-Up
September 7, 2018
• Single-Dose Drug Can Shorten Flu Symptoms by About a Day, Studies Suggest
A single dose of a new influenza drug can shorten the duration of the illness in teens and adults, according to a study published today in The New England Journal of Medicine.
The article reports the results of two multicenter, double-blind, randomized clinical trials, one of which was led by UVA School of Medicine researcher Dr. Frederick G. Hayden. Both found that the drug, baloxavir marboxil, shortened the duration of flu symptoms by about one day and more quickly cleared the virus compared with placebo in otherwise healthy teens and adults. The larger, phase 3 trial also found that baloxavir's effect on symptoms was similar to that of a five-day course of oseltamivir – sold under the brand name Tamiflu – but that baloxavir had significantly greater antiviral potency. The studies identified no important side effects.
"Baloxavir shows remarkable antiviral potency in uncomplicated influenza, and if approved by the Food and Drug Administration, it would be an important addition to our treatment options for influenza," Hayden said. "Of note, because baloxavir has a novel antiviral action in inhibiting the endonuclease of the virus, the drug is inhibitory for influenza A and B viruses, including those that may be resistant to currently available drugs."
Read more: https://news.virginia.edu/…/single-dose-drug-can-shorten-fl…
• UVA Engineers, Physician Collaborating to Detect Impending Asthma Attacks
About 5 percent of asthma patients suffer from frequent and severe sudden chest tightness that disrupts breathing, often leading to an emergency room visit and hospitalization.
The condition can best be monitored and treated in a clinical setting, but that's not where asthma patients live their lives. The challenge is to bring the sophistication of the clinic to asthma sufferers in their everyday lives and activities, because anywhere and anytime is where and when asthma attacks occur.
University of Virginia engineering professors Daniel Quinn and John Lach, working with UVA asthma physician Dr. Larry Borish, believe they have found a way to do this. They are developing and testing innovative sensor systems that, once fully designed and implanted in a patient's trachea, should help detect sudden asthma attacks before they happen, allowing for quick preventive medicative treatment by the sufferer on site, wherever that might be: in the home, on the road, or even on a playing field.
Read more: https://news.virginia.edu/…/engineers-physician-collaborati…
• Kids and Concussions: UVA Physician Helps Craft New CDC Treatment Guideline
Dr. Robert E. O'Connor, chair of UVA's Department of Emergency Medicine, is one of the authors of the CDC Guideline on the Diagnosis and Management of Mild Traumatic Brain Injury Among Children, published Tuesday in the scientific journal JAMA Pediatrics. According to the CDC, the new guideline is based on the most comprehensive review of the science on pediatric mild traumatic brain injury, covering 25 years of research.
Traumatic brain injury is a term used to cover a broad array of conditions following head trauma, yet there is little in the way of guidance to assist clinicians in approaching these patients in a systematic manner," O'Connor said. "These guidelines represent a comprehensive review of the evidence regarding the management of patients suffering traumatic brain injury, beginning with the initial approach used to gauge severity of injury and including the need for imaging and other interventions. Guidance is also offered on the need for follow-up care and timing of resumption of normal activities."
Read more: https://news.virginia.edu/…/kids-and-concussions-uva-physic…
• NBC29 House Call: Dr. Carol Vincel from UVA Transplant Center
UVA is home to Virginia's only comprehensive transplant center, and over 260 transplant recipients were served at the Center in the past year.
Watch the interview: http://www.nbc29.com/…/14609…/uva-house-call-dr-carol-vincel
—
Did we miss something? If you have UVA SOM faculty news to share, please email christa@virginia.edu.
Filed Under: Faculty News Weekly Round-Up, News