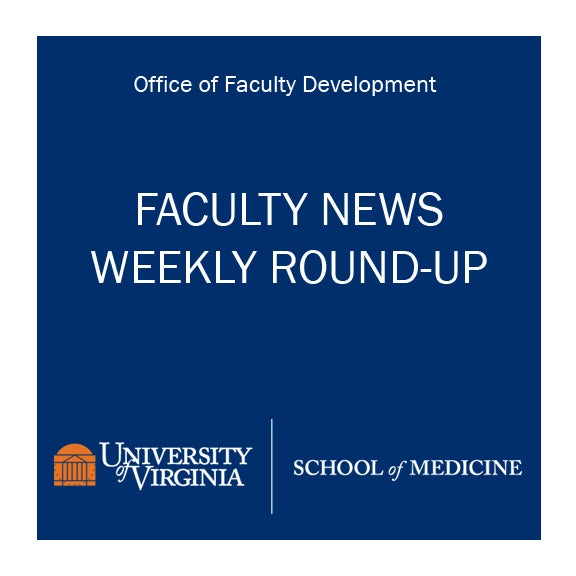 UVA SOM Faculty News Weekly Round-Up
August 31, 2018
• UVA Developing 'Two-Headed Arrow' to Kill Ovarian Cancer
A School of Medicine researcher is developing a two-fisted, antibody-based approach to destroy deadly ovarian cancer — an approach he believes could also be modified to kill breast, prostate and other solid tumors.
The dual-pronged approach being developed by Jogender Tushir-Singh, PhD, aims to overcome obstacles that have undermined otherwise promising immune therapies for ovarian cancer, the deadliest gynecological disease. If the approach proves successful, it may even rescue some failed therapies, allowing doctors to move them from the scrap heap to the clinic, where they could benefit patients.
"There are a lot of efforts in terms of cancer immune therapy, but the success of these are really limited in solid tumors," said Tushir-Singh, of UVA's Department of Biochemistry and Molecular Genetics and the UVA Cancer Center. "I strongly believe, and with my own experience while working in the pharmaceutical industry, that this advancement will allow us to rescue and give a second lease on life to a lot of antibodies that have failed in the clinic. This is all based on large amount of clinical data, and we have strategically exploited this information to improve the therapeutic efficacy against ovarian cancer."
In addition to Tushir-Singh, the following UVA School of Medicine researchers contributed to the study:
Gururaj Shivange
Karol Urbanek
Piotr Przanowski
Justin S.A. Perry
James Jones
Robert Haggart
Christina Kostka
Tejal Patki
Edward Stelow
Yuliya Petrova
Danielle Llaneza
Marty Mayo
Kovi S. Ravichandran
Charles N. Landen
Sanchita Bhatnagar
The findings of the study have been published in Cancer Cell, by Cell Press.
Read more: https://newsroom.uvahealth.com/2018/08/29/19216/
• UVA Honored Nationally Among 60 'Top Hospitals for Diversity'
UVA is one of 60 honorees on BlackDoctor.org's inaugural "Top Hospitals For Diversity" list.
"Each hospital on this distinguished list delivers quality care at the highest level, while promoting equity and inclusion in their operations, programs, services and staffing," according to a statement from BlackDoctor.org, an online health resource for black consumers.
According to the health site, key factors in earning this award include:
• Delivery of quality health services
• Inclusive and diverse clinical and administrative staff
• Persons of color and women represented at the highest levels of leadership
• Culturally competent medical and professional staff
• Significant investment and profile in community health programs and initiatives
• Recognition among and by other leading hospitals
"Through our espoused values of accountability, stewardship, professionalism, integrity, respect and excellence – or ASPIRE – we are committed to building an inclusive place both for our team members to work and for our patients to receive care," said Pamela M. Sutton-Wallace, chief executive officer of UVA Medical Center.
Read more: https://newsroom.uvahealth.com/…/uva-honored-nationally-am…/
—
Did we miss something? If you have UVA SOM faculty news to share, please email christa@virginia.edu.
Filed Under: Faculty News Weekly Round-Up, News