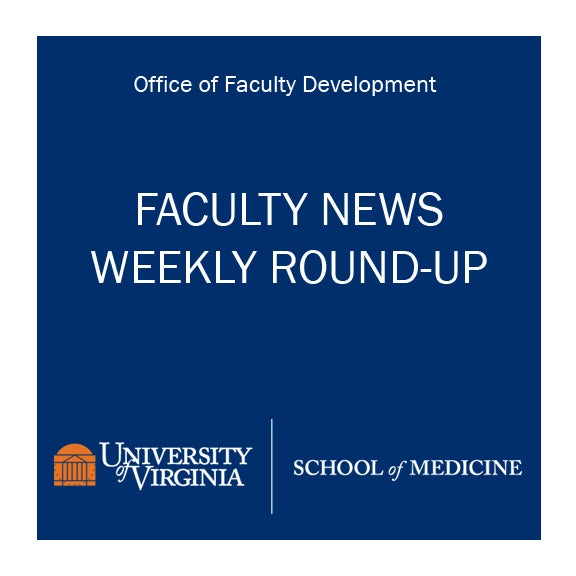 UVA SOM Faculty News Weekly Round-Up
August 3, 2018
• UVA Heart Failure Program Improves Survival, Reduces Cost
A UVA Health System program that provides follow-up care for heart failure patients after they leave the hospital significantly improves survival and other outcomes while saving money, a new study finds.
The study examined participants between January 2011 and December 2014 in UVA's Hospital-to-Home program, which is available to all heart failure patients who live within 90 miles of UVA Medical Center. For 30 days after they are released from the hospital, patients can have follow-up visits and other support from two nurse practitioners specializing in heart failure.
In the first 30 days after being released from UVA, program participants had a 41 percent lower mortality rate and a 24 percent reduction in the number of days they were readmitted to the hospital compared with patients who did not participate in the H2H program during the same period. These improvements in outcomes occurred even though H2H participants were sicker than non-participants, the study found.
"It's important to have a program that follows patients closely and especially during their most vulnerable period following a discharge from the hospital," said Sula Mazimba, MD, MPH, a study co-author and heart failure specialist at UVA.
The study's findings have been published in the American Journal of Medical Quality. In addition to Mazimba, the following UVA researchers contributed to the study:
Kenneth Bilchick, MD, MS
Travis Moss, MD
Timothy Welch, MD
George Stukenborg, PhD
Bryan T. Lawlor, MD
Juanita Reigle, MSN, ACNP
S. Craig Thomas, MSN, ACNP
Carolyn Brady, MSN, ACNP
James D. Bergin, MD
Jamie L.W. Kennedy, MD
Mohammed Abuannadi, MD
Kenneth Scully, MSc
Read more: https://news.virginia.edu/…/study-uva-heart-failure-program…
—
Did we miss something? If you have UVA SOM faculty news to share, please email christa@virginia.edu.
Filed Under: Faculty News Weekly Round-Up, News